Dolphins release Pro Bowl P Brandon Fields, name rookie Darr starter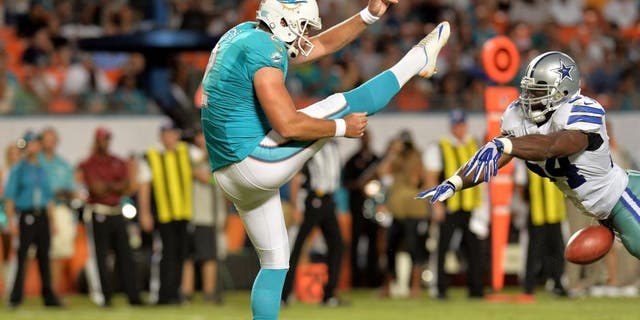 NEWYou can now listen to Fox News articles!
Like the other 31 teams, the Miami Dolphins are required to trim their roster down to 75 players on Tuesday. To get closer to that number, the Dolphins released Pro Bowl punter Brandon Fields.
Fields has been the team's punter for the last eight seasons and was named to his first and only Pro Bowl in 2013 when he averaged 48.8 yards per punt. Fields' contract was restructured in March to create cap space for the Dolphins.
With Fields no longer on the roster, rookie Matt Darr will take over as the team's punter. Darr impressed in the preseason, averaging 50.3 yards per punt with a long of 58 yards. Any time a team can get younger and cheaper at a position and still sustain success, it's a move they're likely to make. That was the case for the Dolphins and Fields.
(h/t Miami Dolphins)