Dolphins president leaves door open for possible return to classic logo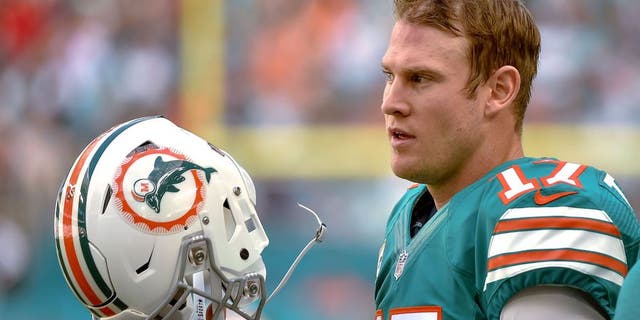 NEWYou can now listen to Fox News articles!
Just over four years ago, the Miami Dolphins unveiled their new logo and coinciding uniforms. It was the first major change to the iconic helmet-wearing dolphin emblem they had used for all of their existence, dating all the way back to 1966.
The new logo was met with mixed reviews with some preferring it to the old one, while others were unhappy with the change. The same feelings have been expressed four years later, and its led the team to leave the door open for a potential return to the classic look.
Team president Tom Garfinkel addressed the possibility after much was made about Adam Gase and other players wearing the old-school logo during practice, saying theyre committed to the current look for now.
Yeah, as of right now, thats the plan, Garfinkel said, via the Palm Beach Post. There have been fans that certainly love that aspect of the uniform. And we love it too. There is a long time frame. You cant just change uniforms on a whim. So Id say were listening to the fans and evaluating everything. Were open-minded. But as of right now there is no plan to change.
Steve Mitchell-USA TODAY Sports
The Dolphins also have oneof the best throwback uniforms in the league, which theyve worn for the past two seasons. The lookpays homage to the 1966 squad, and features a darker aqua color throughout the jersey.
Those in Miami are huge fans of the throwbacks with some petitioning to make them permanent. The Dolphins have heard the response from their supporters and will wear them twice in 2017.
We love them, Garfinkel said. The players love them. That was one of the first things [we thought] when we first got here. We look up at these pictures of Bob Griese and Nick Buoniconti. Those are beautiful football jerseys. So how do we bring those back on a more consistent basis?
The team sounds like it's open to making an adjustment down the line, but the NFL allows such major changes only every five years. As a result, the Dolphins will have to wait until at least next year before switching anything up.
For the time being, it's good to see Dolphins brass is listening to the fans' voices.