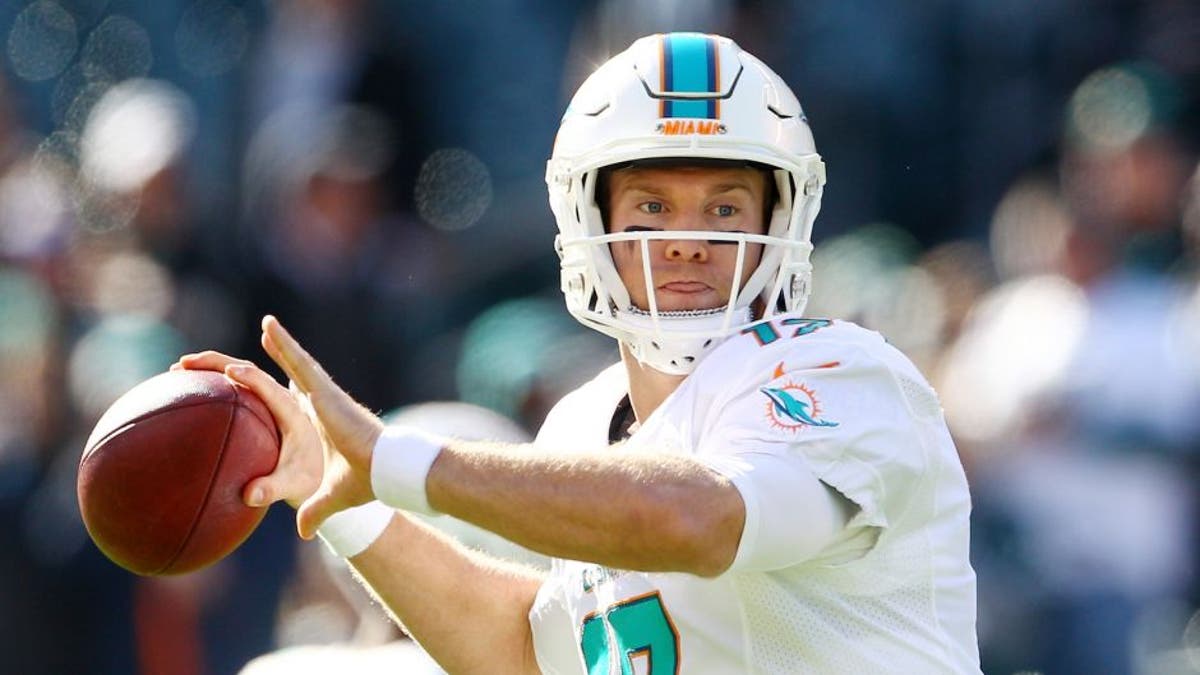 Each day between now and post-Super Bowl Monday, we'll roll out a get-to-the-point offseason plan for one NFL team. Today, the Dolphins; tomorrow, the Saints. After that, we'll see. Here's our three-point plan for Miami:
1. Build a rapport with Ryan Tannehill
New head coach Adam Gase has been known as a quarterback whisperer of sorts given that he did some solid things as offensive coordinator with the Broncos and Bears. However, his new protege doesn't have the resume of Peyton Manning and isn't the mercurial mystery that is Jay Cutler. Tannehill is coming off back-to-back 4,000-yard passing seasons. He also hit career highs in 2015 in yards per completion and yards per game. However, his interceptions held steady at 12 in 2014 and 12 in 2015. And his completion rate dropped from 66.4 percent to 61.9. Since Gase will be calling plays for the Dolphins in 2016, it's up to him to take advantage of what Tannehill does well and make him a more consistent quarterback rather than the "meh" option that most people view him as. Tannehill, who will be entering his fifth year, has never had a season with more than eight wins. That must change.
2. Decide who to keep
The Dolphins are right up against the salary cap heading into the offseason. So one or more key players will be on their way out. Running back Lamar Miller? Defensive end Olivier Vernon? Wide receiver Rishard Matthews? There's a decent chance that another team will throw money at one of those options, and if that's the case, the organization will need a Plan B to fill the gap. Making up for Miller's absence wouldn't be much of a problem since the team used him sparingly at points during the season and it seems as though younger and cheaper running backs are always available. However, replacing someone like Vernon won't be as easy. Decisions, decisions.
3. Hit it big in the draft
The Dolphins won't have much money to spend in free agency due to their cap issues, so any improvement will have to come from the draft. They have a prime spot with the No. 8 pick in the draft, and that's a perfect spot to find a talented inside linebacker such as Alabama's Reggie Ragland or Arizona's Scooby Wright. Secondary is also a big area of need, and Florida State cornerback Jalen Ramsey could be a tasty choice if he falls that far. Plus, the Dolphins could use some depth on the offensive line, specifically at the the guard spot.
EARLIER TO-DO LISTS
• Tennessee Titans
• Houston Texans
• Cincinnati Bengals
• Minnesota Vikings
• Washington Redskins
• Cleveland Browns
• Dallas Cowboys
• San Diego Chargers
• Kansas City Chiefs
• Green Bay Packers
• Seattle Seahawks
• Pittsburgh Steelers
• San Francisco 49ers
• Baltimore Ravens
• Jacksonville Jaguars
• Tampa Bay Buccaneers
• New England Patriots
• Arizona Cardinals
• Chicago Bears
• New York Giants