Dodgers to start Seager at shortstop; Rollins reacts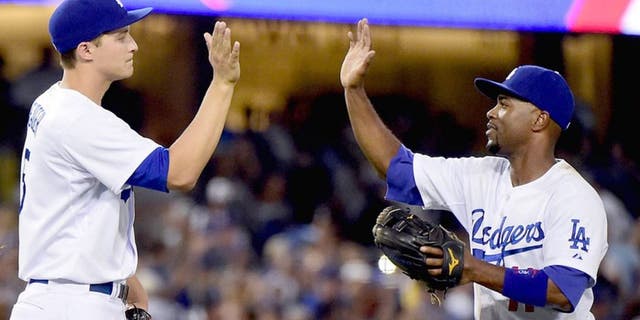 NEWYou can now listen to Fox News articles!
Corey Seager hasn't missed a beat since being called up at the beginning of September, and the Dodgers have apparently garnered enough confidence in him to start him during the postseason.
"They're going to play him," Jimmy Rollins, who was the Dodgers' everyday shortstop prior to Seager's arrival, said of the plan moving forward. "We had a conversation and that's the way it was said: 'We're going to go with the kid. That's the lineup we feel is best.'"
After going 3 for 3 with a home run on Sunday, Seager is batting .337/.425/.561 with four home runs and 17 RBI in 27 games this season.
Rollins, conversely, has hit .224/.285/.358 with 13 home runs and 41 RBI in 144 games in his first season in Los Angeles after spending 15 seasons with the Philadelphia Phillies.
Manager Don Mattingly wouldn't confirm who the starting shortstop will be in the postseason. Seager started Friday and Sunday, while Rollins started on Saturday.
"Moving forward I'm not sure we've made that decision yet," Mattingly said.
As for how Rollins feels about the move, the 36-year-old veteran assures he's more focused on the team's success than his playing time.
"I'm OK with it," Rollins said. "Obviously, no one is ever happy. I mean, you want to be out there playing, especially this time of the year. But like I said in my meetings, it isn't about the name on the back, it's about winning baseball. So, if that's the lineup that is best for us to win, let's go with that.
"Either you're selfish or you're a man of your word. If you say it's about the team, then when the situation isn't necessarily in your favor, you shouldn't change. I'm not going to change."