Pennsylvania university basketball team don opponent's uniforms after forgetting their own during title game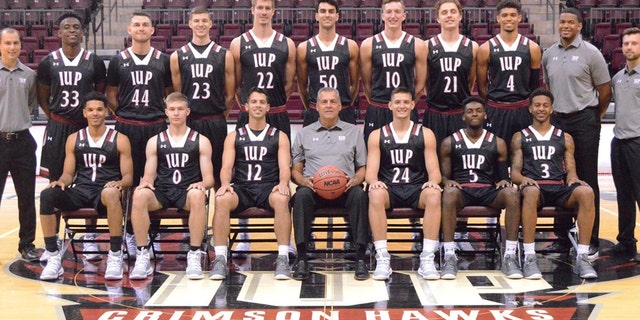 Indiana University of Pennsylvania's basketball team had a bit of a wardrobe malfunction Wednesday before a major playoff game.
The Crimson Hawks tweeted before their Pennsylvania Athletic Conference West Division Title game against Edinboro University, alerting Hawks fans who might have been confused about the team's uniforms come game time.
SYRACUSE'S JIM BOEHEIM SAYS FATAL CAR ACCIDENT IS 'SOMETHING THAT WILL BE WITH ME FOR THE REST OF MY LIFE'
"Soooo we're having our own version of a uniform malfunction tonight and will be sporting Edinboro red uniforms," the team tweeted. "So that's that."
Throughout the night, the team's Twitter account poked fun at the Hawks having to wear their host's old road uniforms.
"Different uniforms, same result. Win #25 tonight in Edinboro," the team tweeted.
A team spokesperson said a team manager "simply forgot to pack" the jerseys and Edinboro was nice enough to lend their old uniforms to their Indiana University rivals, USA Today reported.
Edinboro also got in on the fun on social media.
SEVERAL OLE MISS ATHLETES KNEEL DURING ANTHEM IN RESPONSE TO PRO-CONFEDERACY RALLY: REPORT
"There are two types of athletes: Those who are Fighting Scots and those want to dress like Fighting Scots," the team tweeted.
The borrowed jerseys seem to have brought luck to the team.
The Crimson Hawks beat Edinboro, 87-59, to claim the division title. The win also marked head coach Joe Lombardi's 300th career victory.