Disappointing Eliminator Round ends Keselowski's title hopes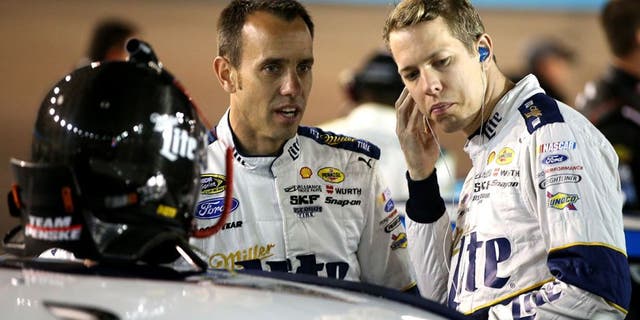 NEWYou can now listen to Fox News articles!
For the second consecutive season, Brad Keselowski's championship hopes came to an end in the Eliminator Round of the Chase for the NASCAR Sprint Cup after a disappointing finish at Martinsville Speedway.
The 2012 Sprint Cup champion entered Sunday's elimination race at Phoenix International Raceway in a must-win situation, sitting 19 points behind the fourth and final transfer spot.
Needing a walk-off performance to compete for his second Sprint Cup title, Keselowski and crew chief Paul Wolfe could never find the speed they needed throughout the weekend to contend for the race win.
Starting 18th, Keselowski worked his way closer to the top 10 throughout much of the night's race. When the caution flew for an incident involving Joey Gase and Ricky Stenhouse Jr., Keselowski was up to fifth, but had yet to hit pit road.
Slated to restart ninth, Keselowski never got the chance as rain hit the 1-mile track and soaked the racing surface. NASCAR eventually called the race after 219 laps, declaring Dale Earnhardt Jr. the winner.
Without an opportunity to race for the victory due to the race being shortened by rain, Keselowski kept the blunt tone he has had throughout the Chase.
"I don't think it matters what's fair, it matters what entertains the fans and if the fans are happy then that's what it's all about," he said on pit road before the race was officially called.
Much like last season, Keselowski's title hopes took a big hit in the opening Eliminator Round race at Martinsville. After running up front for much of the day, contact on a late-race restart with Matt Kenseth sent the heavily damaged No. 2 Ford behind the wall.
Heading to Texas Motor Speedway looking for a win to automatically earn a spot in the Championship 4, Keselowski dominated the race, leading 312 of the 334 laps. However, Keselowski lost the lead to non-Chaser Jimmie Johnson with four laps to go, finishing the day a disappointing second.
Now out of the championship picture, the Team Penske driver is focused on making the most of the situation and finishing the year fifth in the standings with a solid outing next weekend at Homestead-Miami Speedway.
"It was a long day for everybody and to have it end like that wasn't surprising," he said. "We kept adjusting on it, but it's a short race and who knows? Maybe that last run we would have had something, but that's not the way it played out. The highest we can get is fifth in points now, so I'd like to pull that off and take advantage of that opportunity when we get to Homestead next week."