Dirk Nowitzki confirms hell return for 20th season and might play beyond that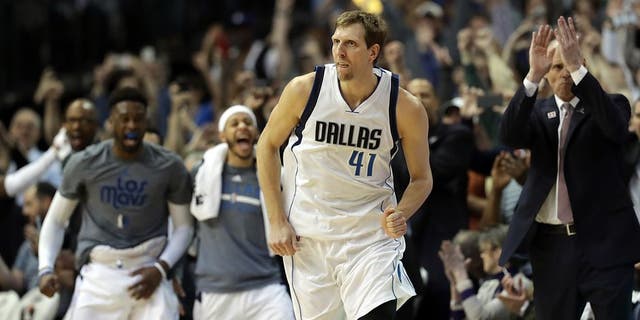 Dirk Nowitzki reached the illustrious 30,000-point milestone this season, and the Dallas Mavericks icon will be back for more. Nowitzki confirmed to reporters Thursday that he will indeed be back for a 20th season.
Looking forward to doing the same program this summer and with a few tweaks here or there sit together with the trainers and Ill be ready for camp, Nowitzki said.
Then he was asked about possibly playing beyond next season.
Ill have to see how the body responds next year," said the 38-year-old Nowitzki, who will enter the second year of his two-year, $50 million deal. "If I feel like this, like I did at the end, I think I can play. Another one after that? Ill just leave all that open. When I signed off for two more years last summer that was the plan. If I sign to play for two more years, then well sit together with family some of my close ones and [Mavericks owner Mark] Cuban and all these guys. Well make a decision what makes sense for me and the franchise.
Nowitzki has been the Dallas franchise for nearly two decades, helping bring Mavericks their first title in 2011. Last month, hebecame the sixth player in NBA history to reach 30,000 points, joining Kareem Abdul-Jabbar, Wilt Chamberlain, Michael Jordan, Karl Malone and Kobe Bryant.
Nowitzki is more than 1,000 points shy of passing Chamberlain for fifth on the all-time list. The 13-time All-Star, who will turn 39 in June, averaged 14.2 points this pastyear, his lowest average since his rookie season.