Dez Bryant regrets feuding with Josh Norman, says 'It's over with'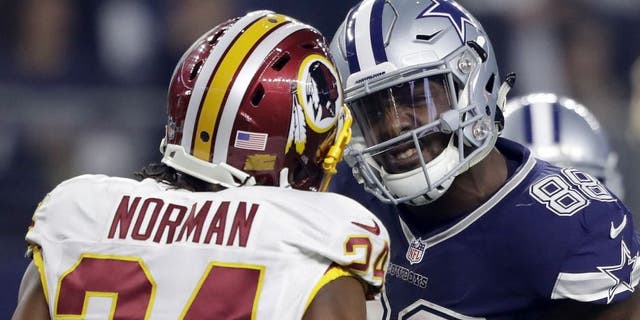 Dez Bryant and Josh Norman have combined to give us one of the most interesting matchups in the NFL. When they meet, tempers flare, words are exchanged and plays are made between two outstanding players.
On Thanksgiving Day, though, things got a bit out of hand. The two went at it after the game, getting into a shoving match and saying some unpleasant things about each other.
Now five-plus days removed, Bryant wishes it never happened.
"I'm really not trying to talk about that, but I wish I never did what I did, but that's OK because it's over with now," Bryant said, via ESPN. "I'm not even focused on that. I'm not even fitting to open up another can. It's all said and done. I wish I'd never done it. It happened. It's over with."
It's easy to understand why they got into it during the game and even after the final whistle. It's a rivalry game that put a top cover corner on a fiery, physical receiver. Bryant has nothing against Norman despite the corner calling him out multiple times.
"I guess it's just the nature of the game," Bryant said. "It's football, at the end of the day. I have nothing against that guy, I'm pretty sure he's got nothing against me. It is what it is."
Although their feud may have been a bit much, it was certainly entertaining. There's just nothing better than watching an elite cornerback line up against an outstanding receiver. It's Patrick Peterson-Julio Jones, Richard Sherman-Larry Fitzgerald. Only, with Bryant and Norman, there's an added element of emotion and flare.
Bryant just doesn't want his actions to take away from what the Cowboys have going.
"I felt like I made that clear. This thing is much more bigger than me," Bryant said. "I'm here to do my job. That's what I'm going to continue to keep doing. I addressed that, and that's so far behind me right now."