Despite slow start, Matt Kenseth keeping his perspective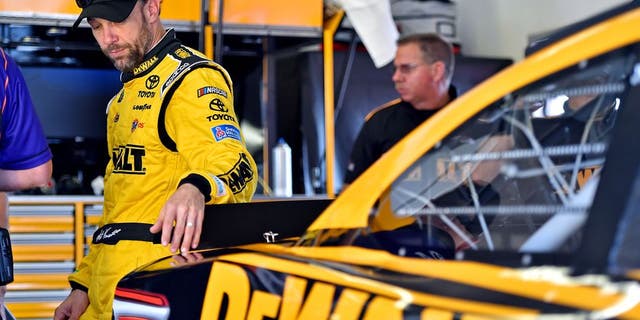 NEWYou can now listen to Fox News articles!
Give Matt Kenseth credit: Even though his season has started poorly, the 2003 NASCAR champion has not lost his sense of humor. Not at all.
Kenseth was at the NASCAR Hall of Fame on Wednesday to take part in an announcement that convenience store chain Circle K has signed a multi-year agreement to be the primary sponsor of Kenseths No. 20 Joe Gibbs Racing Toyota for six races a year, starting next week at Richmond.
Asked by a reporter if his season had been hit or miss so far, Kenseth laughed.
Ive hit a lot of stuff. Havent missed much. If theres something to hit, Ive hit it, said Kenseth, who has been involved in three accidents this season, none of which have been his fault.
Like his teammates at JGR, Kenseths performance in the first seven races isnt what the veteran was hoping for.
Weve been off, said Kenseth. We havent run real well. Weve run OK at a couple of places. Were not handling good and running the way we should run.
A visit to Bristol Motor Speedway, site of Sundays Food City 500, could be a chance for Kenseth and the entire JGR squad to break through and win for the first time this season.
Three of the teams four drivers all but rookie Daniel Suarez have won at Bristol, including Kenseth, who has four victories here.
Then again, after winning this race in 2015, Kenseths last three Bristol finishes have been 42nd, 36th and 37th. Yeah, that definitely qualifies as hit or miss.
We have four or five DNFs (at Bristol) and a couple of wins, said Kenseth. So, its kind of feast or famine for us there. I do enjoy it. I really always look forward to going there and the challenges, the little changes they keep making to the track.
The main thing, though, is the team needs to recapture the speed its Toyotas had in 2015 and 16.
Kenseth said theres a tiny margin of error on setups these days, which is a big part of the teams issues.
Were off, for sure, said Kenseth. It just seems to me like the window is pretty small right now. Its easy to miss it. We need to get that target opened back up a little bit and make everybodys job a little bit easier. Were working hard on it. I think well get rolling, get some better stuff going forward.