DeSean Jackson asked for Darrelle Revis, and he may get him Sunday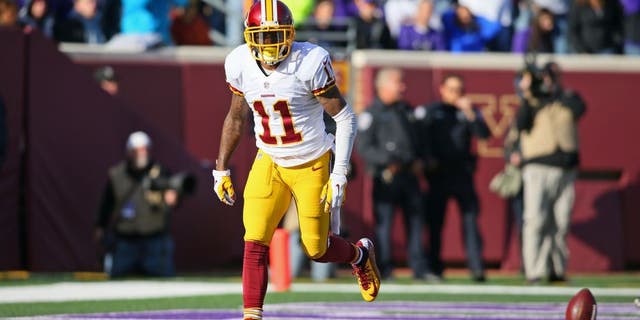 NEWYou can now listen to Fox News articles!
Washington Redskins wide receiver DeSean Jackson has never been shy about sharing his opinions of himself. It rang true in training camp a few months ago when he made the claim that no one can cover him -- not even Darrelle Revis.
"I don't think no one can guard me," Jackson said to ESPN. "It's how I feel about myself. I don't feel no one can stop me. You can get Darrelle Revis, Richard Sherman -- whoever you want to get."
It's unknown if Jackson said that knowing the Redskins face the Jets this season, but he may get his wish on Sunday. The Redskins will head north to visit the Jets in Week 6 where Jackson has a chance to play for the first time since the season opener.
He's currently dealing with a hamstring strain, and although he practiced last week, he was unable to go against the Atlanta Falcons. His status is up in the air for Week 6, but there's no doubt he hopes to get the chance to line up against Revis. Needless to say, Revis feels the same way.
"That's DeSean, man," Revis said via Brian Costello of the New York Post. "He's very confident in his game and he should be. He led the league in most explosive plays last year.
"I've got a lot of respect for him. He makes plays. He shows up on Sundays and does what he needs to do. ... We want to play against the best."
Even if Jackson is able to play, it's not certain that he'll match up against Revis. The Jets could elect to put the quicker Buster Skrine on the elusive Jackson. Regardless, Jackson's comments add another wrinkle to Sunday's game between the Jets and Redskins.
MORE NEWS: Want stories delivered to you? Sign up for our NFL newsletters.