Deontay Wilder: Now, Chris Arreola gets a chance to back up his talk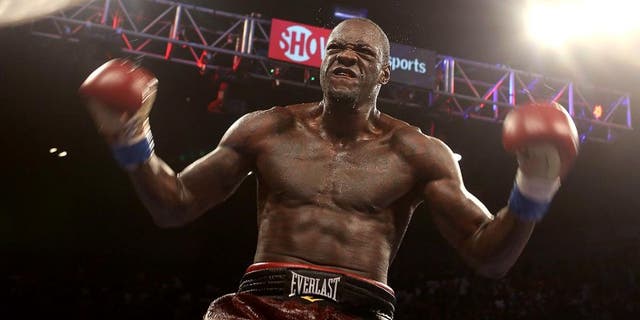 NEWYou can now listen to Fox News articles!
WBC heavyweight champion Deontay Wilder (36-0) admits that he was as upset as boxing fans when his scheduled contest with Alexander Povetkin was scrapped because the Russian failed a drug test. "Honestly, I was a bit depressed after he was pulled from the card," he told FOX Sports after a training session Thursday.
"After I thought that fight was going to be good not just for me but for all of boxing."
Fortunately, Wilder got a replacement opponent in Chris Arreola, and will defend his belt Saturday night in Birmingham, live on PBC boxing on FOX. Date and opponent changes are disruptive to a fighter's training schedule and psyche, but Wilder says he was able to rebound with ease, in large part due to his experience.
"Opponents falling out, late, happened a lot as an amateur and early in my pro career so that prepared me for this type of stuff. We took two weeks off and then got back into the gym," he said.
"Then, it wasn't hard at all to be focused and motivated."
Arreola was a loud detractor of Wilder's when the Olympic bronze medalist became world champ. The Tuscaloosa native insists, however, that Arreola's prior trash talk doesn't add any fuel to the fire.
"No, his trash talk doesn't add any motivation for me. I'm used to people saying negative things. They do that because they are jealous," he surmised.
"It doesn't get to me. This is going to be his third chance at a world title and he hasn't gotten one yet. For him, the third time is not going to be a charm."
The words will soon end and both men will have a crack at one another.
"People can talk all they want to talk, but eventually they have to back it up," Wilder calmly said.
"So, he talked a lot, now he gets his chance to back up the talk."
And Arreola will have to try and do it on Wilder's home turf. The two will face off in Wilder's home state, and the defending champ is excited to continue to be able to bring big-time boxing to his native land.
"Oh absolutely," he enthused.
"I consider all of Alabama my home so whenever I fight anywhere in the state, I feel at home. I remember back when we were just starting, me and my coach talking about all the fights we wanted to get, and wanting to bring them to Alabama.
"I'm going to rebuild Birmingham, brick by brick."