Demetrious Johnson dominates John Dodson and defends belt at UFC 191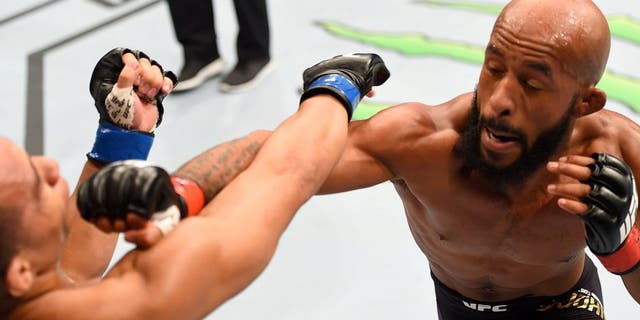 UFC flyweight challenger John Dodson told the world that champion Demetrious Johnson would be scared of his punching power, after being dropped several times by "The Magician" in their 2013 bout. "Mighty Mouse" showed absolutely no trepidation in their rematch Saturday night, however, en route to a dominating decision win Saturday in the UFC 191 main event.
In fact, Johnson appeared to let loose with his offense more than he ever had before. Over five rounds, Johnson stalked Dodson, constantly changing levels, shooting for takedowns and letting rip flying knees and elbows.
Cleanly landed strikes were hard to come by between these two skilled, super athletes as they buzzed around the Octagon, but Johnson certainly landed the majority of those that landed successfully. Additionally, he pressured the defending Dodson constantly and managed to score several clean takedowns.
For his part, Dodson never let up or appeared to slow down. He simply found less success with his own strikes and takedown attempts after being immediately put on his heels from the opening moments. In the second round, Dodson managed to take Johnson down, but the champ scrambled up and ended the round by piling up his punches-landed count.
In the third, Johnson finally got through and scored his own takedowns. Dodson was able to work back to his feet each time but only ate more strikes afterwards, for his effort.
Dodson punctuated the period by landing several right punches and a flying knee to the head. In the fourth, Johnson continued his pattern of feints and shots, scored one more takedown and edged Dodson out in strikes landed, once more.
After the round's end horn sounded, a frustrated, or perhaps just caught up in the moment Dodson fired off a late punch. Johnson mostly slipped it and came back out firing his right hand at the start of the fifth.
Dodson continued to eat right hands but defended Johnson's takedown attempts well, early on in the final stanza. Eventually, however, the champion was able to get under the challenger's hips, scoop him up and slam him down to the mat with his most authoritative takedown of the fight and his third of the night.
Dodson, once more, effectively worked his way back up to this feet but was immediately pressed backwards once more by Johnson's punches and foot work.
Johnson stuck Dodson against the cage again and then landed another double-leg takedown slam. Dodson, not letting fatigue affect him, bounced up to his feet and the two speed freaks exchanged punches.
Dodson had plenty of pep left in him at this point, and Johnson smartly clinched up and pressed him against the cage. With the closing seconds, Dodson reversed positions and fired off body shots from the clinch.
At the end of the fight, both men lifted their hands in victory, and both certainly had proven game. It was clear, however, that Johnson had managed to best his nemesis in even more convincing fashion than he did two and a half years ago.
Scores were 49-46 (twice), and 50-45 for Johnson. Afterwards, the champion continued to let loose, verbally.
"Look at my face," he boasted.
"I look prettier than a motherf****. That's what technique gets you."
Pretty as he was, the effort was a typically yeoman-like one for Johnson. From being a factory worker to now cemented as one of the most dominant fighters in the world, Demetrious Johnson has never minded hard work, however.
"I love working hard. I love working for what I have."
The win improves Johnson's record to 23-2-1. Dodson's loss sees him slip to 18-7.