Daytona adds star power to 2012 opener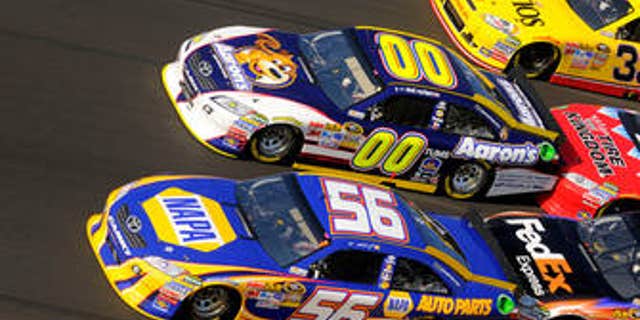 NEWYou can now listen to Fox News articles!
Jane Lynch and Kate Upton, co-stars from the new "Three Stooges" movie, will give the command to start engines for the NASCAR Sprint Cup Daytona 500 at Daytona International Speedway.
In addition, stars Sean Hayes, Chris Diamantopoulos and Will Sasso, who play Larry, Moe and Curly in the movie, will deliver the green flag at the Daytona 500 (Feb. 26, FOX, noon ET).
"We look forward to Jane and Kate's participation in the prerace ceremonies, adding to the star power of NASCAR's biggest and richest race of the year," Daytona International Speedway president Joie Chitwood III said. "Also, the thousands of race fans in attendance and the millions more watching on FOX Sports are eagerly waiting to experience 'Stoogemania,' when the Three Stooges deliver the green flag."
Lynch is best known for her role as the sarcastic villain on FOX's hit show "Glee," for which she has earned an Emmy and Golden Globe. Upton, who was raised in Melbourne, Fla., is known for her appearance in the 2011 Sports Illustrated swimsuit issue, where she was named Rookie of the Year.
Hayes (Larry) garnered acclaim as Jack McFarland on NBC's long-running sitcom, "Will and Grace." Sasso (Curly) starred for five seasons (1997-2002) on FOX-TV's sketch comedy series "MADtv," and Diamantopoulos (Moe) recently portrayed Frank Sinatra in the Emmy-nominated mini-series "The Kennedys."