DaVonte Lambert regaining his form coming off serious knee injury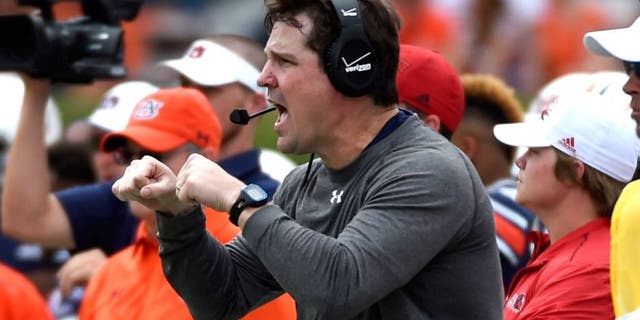 Lambert is starting to show his coaches the progress they need from him. Shanna Lockwood USA TODAY Sports
Everyone recovers from injury at their own pace. Coming off an ACL surgery, Auburn senior defensive lineman DaVonte Lambert is currently learning that the hard.
"I'm starting to get more confidence in myself than I had earlier this season," Lambert said. "It's also showing in the games that I've been working on it in practice. I feel pretty good, getting close."
Despite not being fully recovered from the injury, Lambert is second on the team in sacks. Imagine what he could do if he was fully healthy.
"I'm getting back to that point," Lambert said. "I kind of feel like I'm right there. Not too far away from it."
Auburn head coach Gus Malzahn sees Lambert's progress as well. Malzahn credited the senior with having his best two games of the season against San Jose State and at Kentucky the last three weeks.
"You can see him improving each week," Malzahn said. "He's getting more confidence in the knee. He's a guy before he got hurt last year was playing very good. You can see him getting back to that level and it's very important the second half of the season he does that."
The more improvement Lambert can show the better for the struggling Auburn defensive unit. With the possibility of the return of Carl Lawson, the Tigers could quickly turn an area of weakness into one of the team's greatest strengths.
Sitting at 4-2 with a trip to Arkansas next on the schedule, Auburn could turn around the season in a hurry by getting a road win in Fayetteville before entering the meat of its SEC slate.
MORE NEWS: Want stories delivered to you? Sign up for our College Football newsletters.