Darvish looking for first career win at Safeco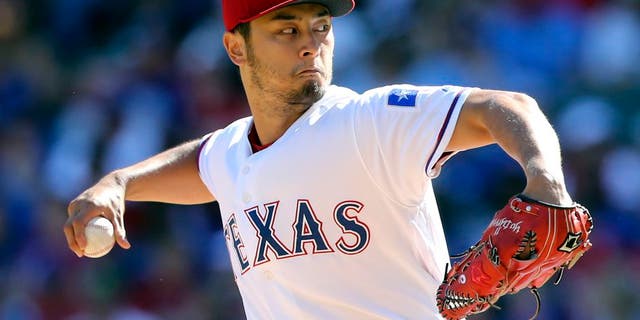 Visits to Safeco Field have never gone well for Yu Darvish; and, for the Texas Rangers, recent trips there also have not been pleasant.
Darvish seeks his first career win at Safeco and the Rangers look to end a five-game road losing streak to the Seattle Mariners on Friday night when the AL West teams open a three-game series.
Darvish is 5-3 with a 4.45 ERA in 10 starts against the Mariners. All of the wins have occurred at home and he is 0-3 with a 7.71 ERA in three starts at Seattle.
There is one caveat to Darvish's history in Seattle. Due to injuries and scheduling, Darvish has not pitched in Seattle since a 3-1 loss on April 12, 2013.
It is so long ago that the only Mariner still on the team from Darvish's last start in Seattle is Kyle Seager, who is 9-for-31 off the right-hander.
Overall, things are going decently for Darvish (3-2, 3.06 ERA) and the Rangers are hoping he can be their top pitcher in the wake of Cole Hamels' being out for eight weeks with a strained oblique.
His 41 strikeouts are tied for fifth in the American League with Cleveland's Corey Kluber and opponents are hitting .180 off him. Darvish will be pitching on five days' rest for the second straight outing after throwing 125 pitches and allowing two runs and three hits in six innings during a 6-3 victory over the Los Angeles Angels on Saturday.
"I really had a really good bullpen session (Tuesday)," Darvish said. "Physically, I don't have any problems. The most important thing is for us to win games. Less pitches are better, but sometimes you have high pitch counts. You've got to do what you've got to do."
The Rangers are making their second trip of the season to Seattle. Texas scored twice in the first two games and blew a five-run lead in an 8-7 loss on April 16 decided on Nelson Cruz's single in the ninth inning.
The five-game skid began with Seattle's 8-3 win on Sept. 7. It also is part of a 9-14 record Texas has compiled in Seattle since the start of 2015, though the Rangers have been outscored by just 10 runs in those games.
Besides trying to reverse some negative trends in Seattle, the Rangers will be going for only their fifth road win. Texas ended a five-game road losing streak Thursday with a 10-4 win in Houston when Joey Gallo hit a two-run home run in the eighth inning and drove in three runs.
Gallo's home run gave the Rangers 12 in their last five games and 43 overall, one behind the New York Yankees for the league lead. The difference is Texas takes a .223 average into its second series in Seattle.
"The majority of us are trying to find ourselves and get back on track," said Texas first baseman Mike Napoli, who is batting .162. "It's hard sometimes. Usually you have four or five guys who are hot. We have more than that trying to find ourselves. "
Like Texas, Seattle is coming off one of its more productive showings. The Mariners scored 19 runs in two wins over the Angels and concluded the series with an 11-3 rout on Thursday.
Since a 19-9 loss at Detroit on April 25, the Mariners are 5-3 in their last eight games. Seattle totaled 16 hits Thursday and is hitting .272 with 43 runs in its last eight games.
Cruz has 10 RBIs in this eight-game stretch and takes a 13-game hitting streak into Friday's game. It is the third-longest active streak in the majors behind Mike Trout (16 games) and Minnesota's Eddie Rosario (14 games). During this run, Cruz is batting .458 (22-for-48) with five home runs and 19 RBIs.
Besides Cruz, Danny Valencia had four hits Thursday and is 6-for-14 in his last three games.
"It's no secret that we have a really good offense," Valencia said. "When everybody is clicking, we can score 10 runs easily. Today, obviously, was a good day for the offense.
"We've just got to keep it rolling and keep winning games."
Yovani Gallardo (1-3, 5.08) will start for Seattle. He has gone at least five innings in each start so far. On Saturday in Cleveland, he allowed four of his runs in the opening inning and allowed six hits in six innings.
The right-hander is 0-1 with a 6.00 ERA in two career starts against the Rangers.