Dantonio breaks down MSU RB situation heading into Western Michigan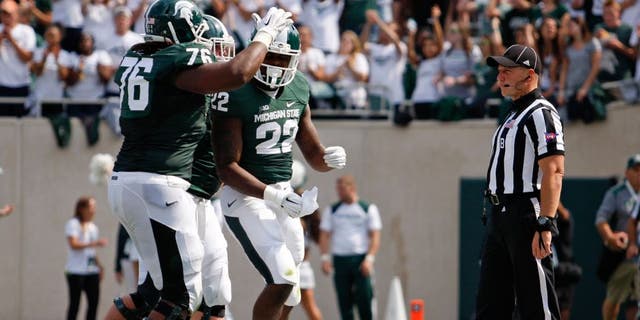 NEWYou can now listen to Fox News articles!
Last season Michigan State had two backs gobble up most of the carries while the rest battled over the scraps.
Will this 2015 be a similar story after the graduation of Jeremy Langford and Nick Hill? Mark Dantonio said it is too early to tell.
"I think it's a luxury when you have a number of guys playing," Dantonio told reporters in East Lansing on Tuesday during his weekly press conference. "It was a luxury when we had Le'Veon (Bell) playing, Edwin Baker playing, (Larry) Caper playing. That was a luxury for us. There were a couple years when we had to go with Jeremy or just Le'Veon Bell. They had 300 plus carries, 380, 390."
Four players are listed on the depth chart published for the game Friday night at Western Michigan, but that does not mean all will play.
"I'm sort of seeing it being the two- or three-prong type thing," Dantonio said. "We'll see how injuries occur during the year or don't occur hopefully. But I see using our guys. Want to keep them fresh. We want them playing hard. They've all demonstrated they can run the football."
Redshirt freshman Madre London is listed as the starter while sophomore Gerald Holmes is behind him.
There is as much intrigue in the next pair, however, as their is in the first as true freshman L.J. Scott arrived this summer to much fanfare and junior Delton Williams is back with the team after dealing with an off-the-field issue.
The 233-pound Scott is a four-star recruit while the 228-pound Williams was the team's No. 3 rusher last season. Both pack a little more heft than London and Holmes, who are both listed at 216 pounds.
While London and Holmes have both used their redshirt seasons, Williams has not.
Dantonio seemed to acknowledge that would be an option if he remains fourth on the depth chart, but he did not indicate it was strong possible.
"We're not going to put a guy in the game and burn a redshirt with anybody," Dantonio said. "You really don't know how things are going, but at this point in time, we'll just use them as they come. If we need to use them, we're going to use them.
"(Williams) is going to come to the football game. We're going to prepare to play him. He's going to be prepared to play. Whether we use him or not, it will depend on how the situation occurs in the game."