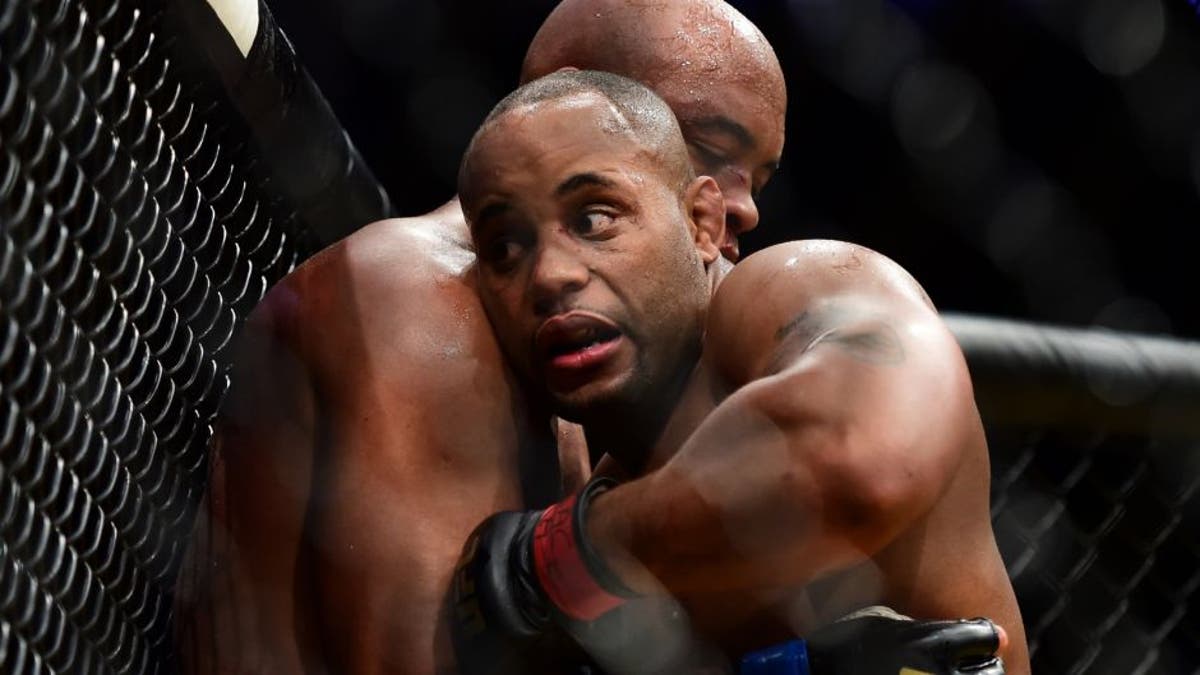 At his peak, Georges St-Pierre was the biggest draw in the UFC with his fights routinely pulling in the most money at the box office and on pay-per-view.
So it's no surprise that light heavyweight champion Daniel Cormier was excited to potentially share a card with St-Pierre after his return was rumored for UFC 206 in Toronto on Dec. 10.
Because Cormier shares in the pay-per-view profits, adding St-Pierre would undoubtedly mean a much bigger paycheck on the back end. Cormier is currently slated to headline the event opposite Anthony "Rumble" Johnson in a rematch from their first fight in 2015.
"Financially, it's a ton. Cause I know what Anthony and I did at UFC 187 numbers wise, and we made some money but not what we would make if Georges St-Pierre fought," Cormier told the Fight Network recently.
Unfortunately, St-Pierre is currently embroiled in a battle with the UFC over his contract after declaring earlier this week that he was a free agent after an attorney "terminated" his deal with the promotion. The UFC quickly countered and said that St-Pierre was still under contract.
The outcome of the situation could result in a court battle if a deal can't be struck between St-Pierre and the UFC, but that leaves the upcoming card in Toronto twisting in the wind.
UFC 206 boasts several top-15 fighters, but Cormier and Johnson are the only marquee names to boost the card and the current light heavyweight king can't deny how much that would change by adding St-Pierre to the show.
"For me, it's tough. I'm like I hope they get this figured out so the fight can be as big as UFC 200. I fought on 200, so I know what a big pay-per-view looks like in terms of revenue, pay-per-view revenue. So I'm hoping that it gets worked out," Cormier said.
"Because 205's going to be massive, 207's going to be massive, with Georges St-Pierre in the middle, UFC can have three big shows back-to-back-to-back at the end of the year, I don't know if we have done that in a really long time."
Perhaps the biggest problem for Cormier, Johnson and the rest of the fighters competing on UFC 206 are the two cards that surround them.
UFC 205, taking place on Nov. 12, boasts Conor McGregor against Eddie Alvarez in the main event, but the show also features two more title fights and slew of top names decorating the rest of the pay-per-view portion of the card. UFC 207, which closes out the year on Dec. 30, features the return of Ronda Rousey against women's bantamweight champion Amanda Nunes as well as a rumored bantamweight title bout between Dominick Cruz and Cody Garbrandt.
McGregor and Rousey are undoubtedly the two biggest attractions in the UFC and both of those shows are expected to rake in a massive amount of money on pay-per-view.
According to Cormier, that could leave UFC 206 without nearly as much of an audience unless St-Pierre can help bring extra eyeballs to the show.
"You just don't want to be at UFC 206 and kind of get lost in the middle of 205 and 207 and then people are like 'you know what, I'm going to save my money for the Ronda (Rousey) fight,'" Cormier said.
"It kind of happened at UFC 198 and 199 where those guys struggled a little bit because people are like 'I'm going to get to 200 and I'm going to spend my money there'. I hope it gets worked out because financially, it is a big difference."