Danica Patrick on Stenhouse: 'We absolutely never mess with each other'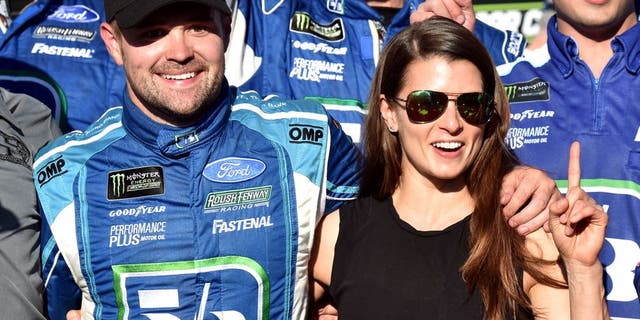 In any healthy adult relationship, establishing clear-cut boundaries is important for both parties. Even when the two parties are both Monster Energy NASCAR Cup Series drivers.
So when Ricky Stenhouse Jr. scored his first career Cup win Sunday at Talladega Superspeedway, there was no trash talk towards his girlfriend and rival driver Danica Patrick.
Patrick said Friday at Kansas Speedway that teasing each other about what happens on the track is strictly forbidden
We absolutely never mess with each other when it comes to that stuff, said Patrick. I think it is obviously because it means so much to us that it is a pretty crappy thing to do. Would you mess with your wife or girlfriend?
Recreational sports, however, are fair game.
When it comes to golf or something I will totally mess with him but when it comes to something like this (racing), no, Patrick said. We dont talk about that at all. I was just simply happy for him and my weekend sucked yet again. Actually my weekend didnt really suck. I had a fine race going and it just ended early so I had another terrible result, which has been the case so far this year.
That said, Patrick was clearly happy to see Stenhouse win, which was made easier by the fact that she got wrecked and knocked out of the race.
I am really glad I had the chance to watch him win, she said. I think that was pretty cool and that I was ready to go. All I did was throw my tennis shoes on and got out the door on the golf cart and went to victory lane and waited for him to pull in.
That was a gift of an experience to be able to have in our relationship because most of the time I would be dealing with my team and dealing with whatever I had going on. I had that chance to regroup, Patrick said. I was fresh as a daisy. I had showered and spend the afternoon standing around celebrating with him. It was a great day.