Dallas Cowboys Practicing Ezekiel Elliot at New Position in Minicamp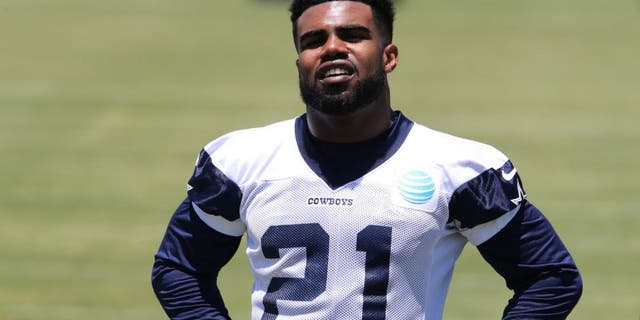 NEWYou can now listen to Fox News articles!
On a day where Ezekiel Elliott probably won himself the starting running back job for the Dallas Cowboys after word got out that Darren McFadden broke his elbow in an unfortunate cell phone catching incident, the team had their prized rookie actually practicing at a new position.
Jon Machota of the Dallas Morning News was on hand Tuesday for the Cowboys minicamp and confirmed that Elliott was taking the first team running back reps ahead of Alfred Morris, who the Cowboys signed as a free agent before the NFL Draft.
But, then came news that Elliott was practicing returning kicks along with cornerback Mo Claiborne.
If you are asking yourself, "Did Elliott return kicks at Ohio State?"...well...the answer is yes...but just one time.
So, is the #4 pick in the NFL Draft your new kick returner in Dallas?
Or, with the injury to McFadden, should the Cowboys be taking every precaution known to help prevent another injury to the running back depth chart?