Dale Earnhardt Jr.'s biggest all-star race was his first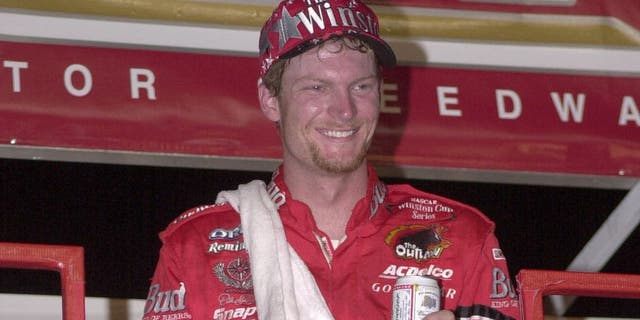 When the green flag falls to start Saturday nights Monster Energy All-Star Race, it will be Dale Earnhardt Jr.s last appearance in the $1 million-to-win extravaganza at Charlotte Motor Speedway.
During his career, the third-generation racer has posted one victory, six top fives and 14 top 10s in the all-star event, where Earnhardt has posted an average finish of 7.824.
Certainly, there have been many memorable all-star races in Earnhardts career, but none was bigger than his very first one.
In May of 2000, Dale Earnhardt was furious with Charlotte Motor Speedway President H.A. "Humpy" Wheeler, who picked Earnhardts son, Dale Jr. then a rookie the Cup series to win the NASCAR All-Star Race.
Wheeler, who had an excellent track record of picking all-star winners, tapped Earnhardt Jr. just weeks after the third-generation driver became eligible by winning his first points race at Texas Motor Speedway.
The pick did not sit well with the elder Earnhardt, who was afraid Wheeler had put too much pressure on his son, who was still learning the ropes in the highly competitive Cup series.
But Earnhardt Jr. justified Wheelers faith when he passed Dale Jarrett with three laps to go and drove off to what he still considers his most important victory.
"That win here in the all-star race was, and still is, the favorite moment of my career being in Victory Lane with my dad," said Earnhardt Jr., who drove the No. 8 Dale Earnhardt Inc. Chevrolet to the triumph at CMS.
"The wins that I had before, he would come in and shake everybodys hand and take off," Earnhardt Jr. said. "That was the only victory lane that he stood in the entire time-he was there for the whole half-hour, 45 minutes we were there, even as the car was taken off for inspection he continued to stay.
"He was talking to his brother, Danny, and the guys on the team," said Earnhardt Jr. "He was really enjoying not only the father-son relationship, but I think he was enjoying the fact that he had built a team that was the winner of the All-Star race."
The smile on the elder Earnhardts face was evident to Danny "Chocolate" Myers, The Intimidators long-time fuel man and close friend.
"I was fortunate to see that smile more than once," Myers said during a telephone conversation with FOXSports.com for a story in 2011. "But thinking about that night right now, I see that smile right now in my mind. I can see that picture in my mind. It was a cool, cool thing."