Daily Fantasy Baseball Advice for July 7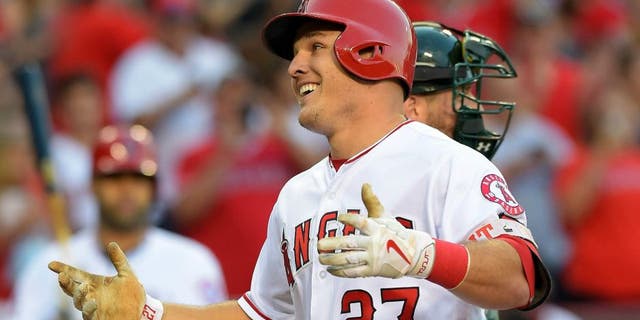 NEWYou can now listen to Fox News articles!
Welcome to today's daily fantasy post! Remember that you can find our posts on the new DFS home page, as well as the fantasy page. Bookmark those sites now!
Also, please scroll to the bottom of this article to see the latest tweets from Ryan Fowler (@FOXSportsFowler), D.J. Foster (@FOXSportsFoster), Adam Meyer (@FOXSportsMeyer) and me (@jhalpin37). That way, if information surfaces for any last minute changes, you can see our thoughts instantly.
Let's get to today's interesting facts, using DraftKings prices. We'll cover all players, but remember that two of today's 11 games are in the afternoon, starting with with Angels-Rays at 12:10 p.m. ET. Please note that much of the information in this post is being published several hours prior to game times, so check MLB lineups later to confirm that any recommended players are included.
5 Things to Watch:
1. The day's biggest favorite is Jason Hammel ($7,400) at a whopping minus-290 over the Braves. Aside from the Phillies-Rockies Coors game, the highest projected run total is Twins-Rangers at 10.5, while the lowest is Padres-Dodgers at 7.5.
2. Highly-touted Pirates rookie SP Tyler Glasnow ($7,000) makes his MLB debut tonight at St. Louis. Glasnow has lights-out stuff and a bright future, but continues to struggle with control issues, with 21 walks in 29 2/3 innings over his last five Triple-A starts. There's always DFS tournament upside with a guy like Glasnow, and you might want to throw a dart at him today because ...
3. Cardinals 3B Matt Carpenter is probably headed to the DL with a strained oblique. With Brandon Moss on the DL and Jhonny Peralta day-to-day due to a thumb injury, the Cards' lineup is hurting.
4. Dodgers SP Hyun-Jin Ryu ($10,300) makes his first start of the season tonight after missing a year and a half with shoulder issues. Nice story, but no thanks for DFS purposes, especially at that price.
5. Yo, BvPers: Justin Smoak ($3,200) has three homers in 15 at bats vs. Justin Verlander, but has whiffed in eight of those 15 ABs ... Freddie Freeman ($5,000) is five-for-11 with a couple of homers vs. Hammel ... Jayson Werth ($3,300) is six-for-13 with four walks vs. Bartolo Colon ... Mike Napoli ($4,400) has two homers in 11 at bats vs. Ivan Nova.
Our recommendations for the day are below!
Yesterday's recap:
D.J. Foster's must-start call worked out well, as Jacob deGrom posted 25 DK points in a win over the Braves. A Nationals' stack that included Bryce Harper and Ryan Zimmerman could have helped some DFS players, too. Let's forget about Shelby Miller as the day's bargain, though. He's dead to us.
Must Start of the day: Mike Trout, LAA
Trout ($5,200) is averaging 15 DK points over his last 10 games, and faces struggling rookie Blake Snell, who has 14 strikeouts along with 14 walks in 20 2/3 innings since getting called up from the minors. This recommendation was a neck-and-neck race between Trout and Nolan Arenado.
Deal of the day: Jason Hammel, CHC
Hammel got hammered for 10 runs in his most recent start, but as the 10th-highest priced pitcher on the board, he's too good to pass up against the weak-hitting Braves. As noted in the "5 Things" bullet above, he's easily the most likely SP to get a win today.
Avoid of the day: Carlos Gonzalez, COL
Phillies SP Adam Morgan isn't a good lefty, but Gonzalez is a much worse hitter when facing southpaws, with a .749 career OPS against them as opposed to a .934 OPA versus RHP. Can't see paying $5,600 for CarGo in this spot.
Stack of the day: Texas Rangers
Phillies and Rockies in Denver ... you'll join a big crowd with one of those two. The Rangers are in a sweet spot against Twins SP Tyler Duffey, who has allowed 14 home runs with a 5.62 ERA in 73 2/3 innings this season. Shin-Soo Choo, Ian Desmond, Nomar Mazara, Adrian Beltre and Rougned Odor are all less than $5K.
Starting pitchers:
Drew Pomeranz, SD: The Dodgers rank 28th against southpaws with a .288 wOBA. Pomeranz is a good southpaw, but he'll cost you ($11,700).
Trevor Bauer, CLE: Has been terrific lately, averaging 24.9 DK points over his last seven starts.
Jason Hammel, CHC: "Deal of the day."
Catchers:
Willson Contreras, CHC: Worth the $4,300 if he's in the cleanup spot.
Derek Norris, SD: He's always been able to hit LHP, and we have no reason to trust Ryu tonight.
First basemen:
Anthony Rizzo, CHC: For $5,200 against journeyman Lucas Harrell? Pay the man!
Mike Napoli, CLE: $4,400, should bat cleanup vs. the homer-riffic Ivan Nova.
Miguel Cabrera, DET: $3,800 vs. Drew Hutchison? Huh?
Second basemen:
Jose Altuve, HOU: Always worth a look vs. LHP, even if it's a good one like Hill.
Yangervis Solarte, SD: $3,300, bats cleanup, has homered three times in his last four games. Was a strong contender for "Deal of the day." Also eligible at 3B.
Third basemen:
Nolan Arenado, COL: Seems like a no-brainer against Adam Morgan IF you can (or want to) fit his $5,400 salary.
Evan Longoria, TB: Crushing LHP as always, and gets a hittable one in Hector Santiago. With all the high-priced 3Bs on the board today, Longoria looks good for $4,500.
Justin Turner, LAD: Bats third vs. Pomeranz, $3,300 salary is attractive.
Shortstops:
Trevor Story, COL: Expensive at $5,100, but if you want a homer from him, today is more likely than most days due to the opposing SP.
Carlos Correa, HOU: Hill is good, but so is Correa, and the price ($3,900) is interesting.
Jose Reyes, NYM: Had a couple of doubles on Wednesday, still pretty cheap at $3,200.
Outfielders:
Mike Trout, LAA: "Must Start of the day."
Nelson Cruz, SEA: $4,700 is a below-premium salary, and he faces LHP Danny Duffy.
Ryan Raburn, COL: Hey, have you heard the one about Raburn being a lefty killer? He's $3,900 at Coors vs. Morgan.
Justin Upton, DET: $2,800? Some Tigers are too cheap against Hutchison.