D-backs rank 2nd among MLB teams in ultimate fan rankings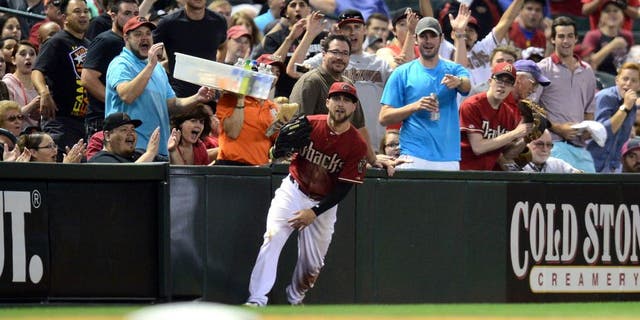 NEWYou can now listen to Fox News articles!
The Arizona Diamondbacks ranked second among all major-league teams and ninth overall in ESPN the Magazine's Ultimate Rankings for MLB, NFL, NBA and NHL sports franchises.
The D-backs trailed only the Pittsburgh Pirates among major-league teams.
The rankings are based on a survey of more than 100,000 fans on seven categories: Fan relations, player likeability, ownership, affordability, stadium experience, competing for championships and coaching. A final category -- bang for the buck -- is calculated with the help of researchers from the University of Oregon.
The D-backs earned their highest mark for affordability, thanks to the lowest ticket prices in baseball, and stadium amenities; they were dinged for lack of championship caliber play on the field; but they made their biggest jump in the rankings on the fans' opinion of their players.
"Talented and charismatic (the D-backs were voted the fifth-most likable team in MLB), the squad will soon be joined by No. 1 overall pick Dansby Swanson, who'll be part of a potentially formidable core in a few years. Whether the Diamondbacks' front office can fill the talent holes around those players and begin to compete with the bottomless money pit in L.A. and the player development machine in San Francisco will determine whether Arizona's spot in the top 10 is stable."
FYI, here are the top- and bottom-ranked teams for each of the four majors:
MLB: Top -- Pirates; Bottom -- Phillies.
NFL: Top -- Seahawks; Bottom -- Jets.
NBA: Top -- Spurs (No. 1 overall); Bottom -- Knicks.
NHL: Top -- Lightning; Bottom -- Maple Leafs.