Curry, Warriors bounce back in Game 4, inch closer to second straight title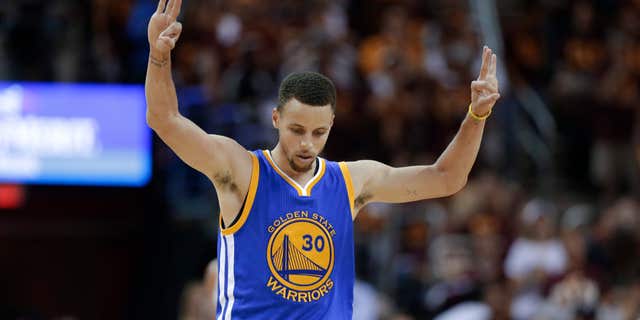 NEWYou can now listen to Fox News articles!
Stephen Curry got back to dropping deep shots, chomping on that mouthpiece and even barking at LeBron James.
Not himself through the first three games of the NBA Finals, Curry silenced his critics by pushing the Golden State Warriors within one win of making more history in this season of seasons.
Curry found his long-range touch and scored 38 points, Klay Thompson added 25 and the Warriors rebounded from a big loss by beating the Cleveland Cavaliers 108-97 on Friday night.
Curry had scored just 48 total points in the first three games, but the two-time league MVP made seven 3-pointers and Thompson, his Splash Brother, drained four as the Warriors took a 3-1 lead in the series.
The Warriors weren't surprised Curry bounced back.
"All the slander," forward Draymond Green said of the criticism directed at his team. "He's a competitor. He's been under a heavy microscope. And rightfully so, two-time MVP, you're expected to have a great game in the finals. He struggled the first three, but tonight he was our guy."
Golden State, which made history with a 73-win regular season, can become the seventh franchise to win consecutive titles with a victory in Game 5 on Monday night at rip-roaring Oracle Arena, where they are 50-3 this season and won the first two games by a combined 48 points.
"Business as usual," Curry said. "We answered the bell. We got back to who we are as a team."
And Curry got back to being Curry.
"He's Stephen Curry," coach Steve Kerr said. "He's the MVP for a reason. He doesn't have the size and strength to dominate a game physically, so he has to dominate with his skill and that's not an easy thing to do because your shot sometimes isn't going to go in. Tonight they went in."
After blowing out the Warriors by 30 in Game 3, the Cavaliers had a chance to even the series. However, James and Co. didn't enough to contain Curry, Thompson or Harrison Barnes, who made four 3s and added 14 points.
The Warriors set an NBA Finals record with 17 3-pointers.
"They got going," Kerr said. "Sooner or later it's going to happen. You can't keep guys like that down forever."
Kyrie Irving scored 34 points for the Cavs, who need to win Game 5 or they'll finish as runner-up to the Warriors for the second year in a row.
"We just got to get one (win)," James said of the upcoming trip to California.
James added 25 points, 13 rebounds and nine assists, but the superstar also had seven turnovers and was too passive at times. Kevin Love returned to the lineup after missing Game 3 with a concussion and added 11 points off the bench.
Cleveland, which came in 8-0 at home in the playoffs, went 6:36 without a field goal in the fourth quarter, the kind of scoring drought no team can afford against the potent Warriors.
With Golden State leading 88-84, Curry got loose for a backdoor layup and Barnes followed with a dagger 3-pointer, deflating a crowd of 20,000-plus fans clinging to hope that this would be the year Cleveland would win its first pro sports championship since 1964.
But this seems to be the Warriors' year — from start to finish — and they can join an elite group of teams by winning Monday in front of their own fans.
"If you can't get up for that there's something wrong with you," Thompson said. "We can't wait to get to Oracle."
Off the mark in the first three games, the Splash Brothers found the pool in the third quarter.
Thompson made four 3-pointers and Curry knocked down three as the pair combined for 19 of Golden State's 29 points in the period. Their arrival was a welcomed relief for the Warriors, who had managed to bury the Cavs in the first two games despite minimal production from their two stars.
But with Golden State's golden season being threatened again, Curry and Thompson stepped up the way they did in the Western Conference finals.
When James was introduced before the game, he went through his usual handshake ritual with his teammates before telling Irving, "Be special."
The point guard was terrific, but Curry and Thompson and their teammates were just better.
TEMPERS FLARED
James and Green exchanged words in the fourth quarter after it appeared the Golden State forward hit Cleveland's star below the belt.
"He said something I didn't agree with," James explained. "Some of the words that came out of his mouth were a little overboard."
James said he watched the video of Green hitting him and hopes the league reviews it. Green has been at the center of several controversial plays in the postseason and would be suspended if he gets another flagrant foul.
NO BALANCE
Irving and James took 33 of Cleveland's 38 shots in the second half and made 16 of the team's 18 field goals.
TIP-INS
Warriors: Thompson wore a wrap on his left leg for protection and support following his Game 3 run-in with Cavs C Timofey Mozgov. ... Surprisingly, one of Kerr's first substitutions was James Michael McAdoo, who had not played a single minute in the first three games.
Cavaliers: Love came off the bench for the first time since 2010 with Minnesota. ... Irving played with a wrap on his right thumb after hurting it in the first quarter. ... Two coaching giants were among the courtside celebrities. Ohio State's Urban Meyer sat near Cleveland's bench while Pep Guardiola, the Spanish soccer coach taking over at Manchester City after three years with Bayern Munich, wore a No. 23 Cleveland jersey.