Curry scores 35, Warriors beat Rockets for 42nd straight home win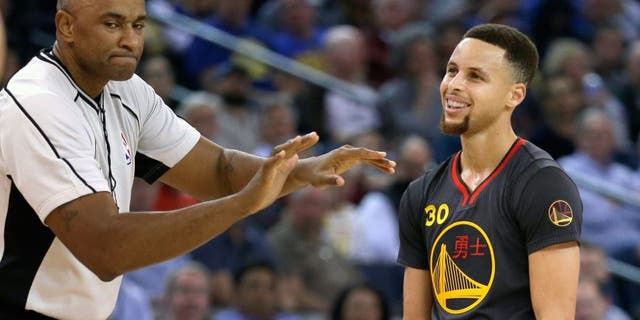 NEWYou can now listen to Fox News articles!
OAKLAND, Calif. -- Stephen Curry and the Golden State starters got a big boost from their bench.
Curry had 35 points, nine assists and six rebounds, and the Warriors put away the Houston Rockets in the fourth quarter of a 123-110 victory Tuesday night.
Even with a remarkable 47-4 record, Golden State is far from satisfied.
"We can definitely play better and just sustain our level of play and be more consistent over 48 minutes. It's hard," Curry said. "As long as you keep that at the forefront and challenge yourselves, that's what hopefully inspires to continue to get better. It's not going to be pretty every minute we're out there, it's not going to be perfect, we're not going to blow everybody out. But we strive to be great every night."
Andrew Bogut added 13 points, 11 rebounds, three steals and a season-high six blocked shots during one of his best games yet.
"Bogut was phenomenal," said Warriors coach Steve Kerr, who didn't feel well after the game but was scheduled to fly with the team to Arizona. He took a leave of absence from Oct. 1 to Jan. 25 for complications following two back surgeries.
Andre Iguodala and Harrison Barnes hit consecutive 3-pointers to start the fourth quarter to get the defending champions going after the game was tied at 93 after the third.
Golden State won its 42nd straight regular-season home game and is 24-0 at Oracle Arena this season. The Warriors are within two home victories of matching the Chicago Bulls' NBA-record home winning streak of 44 games from March 30, 1995 to April 4, 1996.
James Harden overcame a scoreless first quarter to finish with 37 points, five assists and five rebounds in Houston's eighth straight loss to Golden State.
"We didn't win the game but we gained some momentum. It was a competitive game against an undefeated team at home and we put ourselves in a position to win," Harden said.
Barnes added 19 points on 8-of-12 shooting and seven rebounds. The Warriors have their longest unbeaten run against the Rockets in the series since also winning eight in a row from Dec. 5, 1972 to Nov. 26, 1974. Golden State went 3-0 versus Houston to sweep the Rockets in consecutive seasons for the first time.
Houston opened the second half on an 8-0 run to go up 74-69 but couldn't capitalize as Curry made a pair of snazzy reverse layups in a span of 1 minute, 25 seconds. Bogut's hook shot at 7:01 gave Golden State the lead again, and he immediately drew a charge on the other end.
Curry put on a dribbling clinic on one first-quarter play before breezing past Harden for an easy layup, and made 5 of his 6 3-point tries in the opening period and 7 of 8 shots, missing only on a long 3 trying to beat the buzzer.
Harden went scoreless until making two free throws at the 7:01 mark of the second quarter, and he missed his initial five shots before a 3 from the top of the arc 6:25 before halftime.
The Rockets lost for the fourth time in six road games.
ALL-STARS
Curry, Draymond Green and Klay Thompson received their red Western Conference All-Star jerseys from Golden State general manager Bob Myers in a midcourt ceremony before tipoff. They will play in Sunday's game at Toronto.
TIP-INS
Rockets: Golden State's 42 first-quarter points were the most allowed by Houston in any period this season. ... Interim coach J.B. Bickerstaff is taking his wife and kids on a getaway for the All-Star break, "to a fun place with lots of sun and beaches," he said. ... After Wednesday's game at Portland and concluding Feb. 25, the Rockets will have played the Trail Blazers in three of six games. ... Houston began a stretch with 11 of 13 games on the road.
Warriors: Golden State played its second and final home game in February, the second straight season with just two February games at Oracle Arena. The champs' next home game is March 1 against Atlanta. ... Bogut went over 1,000 blocks for his career. ... The Warriors swept the Rockets 4-0 last season, all by double figures, for the first time since 1973-74. They have won 11 of 12 matchups overall, including the 4-1 series win in last year's Western Conference final. ... C Festus Ezeli underwent arthroscopic surgery on his left knee Monday and will be sidelined at least six weeks. He missed his sixth straight game. Marreese Speights had 15 points while picking up more playing time.
UP NEXT
Rockets: At Portland on Wednesday.
Warriors: At Phoenix on Wednesday to start a seven-game road trip that spans the All-Star break.