CUP: Top 10 Stories – No. 3, MWR's Big Year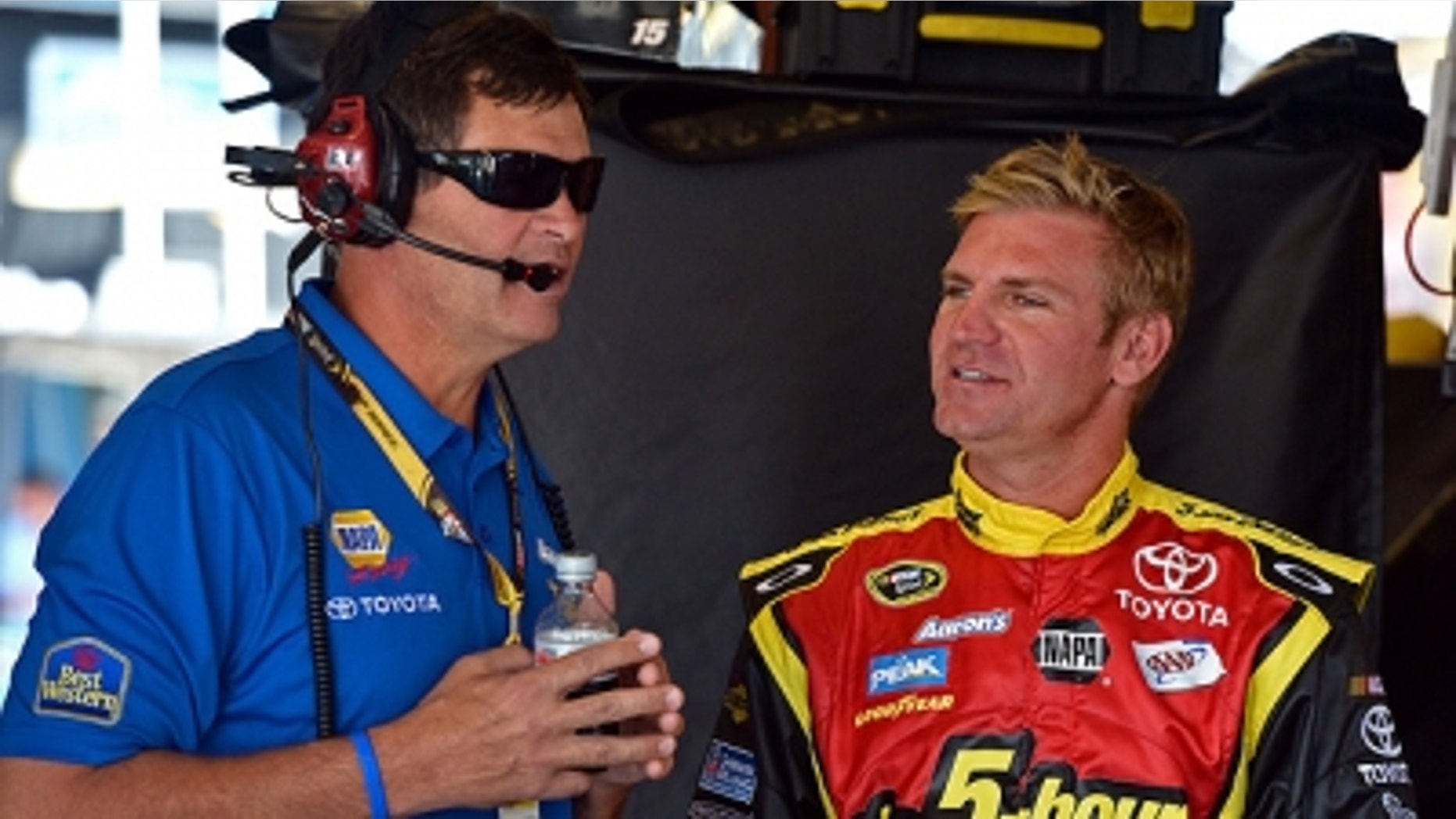 In a season filled with big stories, no team had a bigger season than Michael Waltrip Racing, which in a single year went from a consistent mid-pack team to a legitimate title contender.
The numbers don't lie: Prior to 2012, MWR had made a total of 414 NASCAR Sprint Cup race starts. Its results were modest, to say the least: Just two race victories, 17 top-five and 52 top-10 finishes. From 2007, when MWR began running full time in the Sprint Cup Series, until the end of 2011, the team had exactly zero appearances in the Chase for the Sprint Cup.
For 2012, MWR made a number of key personnel moves that helped turn things around in a big way. Scott Miller came over from Richard Childress Racing to serve as competition director. The team added another RCR alumnus, Clint Bowyer, to drive its No. 15 Toyota. Brian Pattie moved over from Juan Pablo Montoya to serve as Bowyer's crew chief, while Mark Martin, Brian Vickers and Waltrip himself split time driving the No. 55 MWR entry.
The results were nothing short of astounding: Bowyer finished second in points to Brad Keselowski, winning three races and having a career year. Both Bowyer and Martin Truex Jr. qualified for the Chase for the Sprint Cup, with Truex ending the season 11th in points, tying a career-best. The No. 55 car finished 15th in owner points, an impressive feat given that it had three different drivers.
All told, MWR had three race victories, 20 top-five and 48 top-finishes in 2012, a huge leap forward from prior years. Perhaps most tellingly, the three MWR Toyotas finished second, 11th and 15th in owner points, while the flagship Toyota team, Joe Gibbs Racing, had its cars finish sixth, 13th and 18th. Clearly, MWR arrived in a big way in 2012, something noted and appreciated.
"Building a brand-new team from scratch and be able to accomplish everything we have in a short amount of time, we're very proud of that," said Bowyer. "I'm just proud of my guys — Brian Pattie and everybody on our 5-hour Energy Toyota just did a really good job."
Bowyer's move from the powerhouse RCR squad to MWR raised some eyebrows, but he and the team certainly made it work.
"Winning races, making the Chase, that was our goals," said Bowyer. "How we ran in that Chase, you never know. You never know how you're going to roll into the Chase with what momentum you're going to have going into that Chase and how long you can hold onto that momentum — whatever that momentum is. It's neat to see how everything came together this year — very proud of MWR. Michael Waltrip has been in this sport awhile now and weathered the storm. It's neat to see some good things finally coming his way."
"I think that our expectations have definitely taken a huge turn to where we expect to be running up front each and every week and winning races," added Truex. "I think that the overall attitude of the guys in the shop and the people at Michael Waltrip Racing has been great — phenomenal ever since I've gotten there and that's a credit to Michael and the organization that he's built. The work ethic that he's instilled into his people there."
Top Ten Stories of 2012:
No. 10, 'Dinger Busted
No. 9, Silly Season
No. 8, RCR Slumps
No. 7, Danica's Year Of Hard Knocks
No. 6, Montoya Flames Out
No. 5, Kurt Busch The Outlaw
No. 4, Bowyer Vs. Gordon
Tom Jensen is the Editor in Chief of SPEED.com, Senior NASCAR Editor at RACER and a contributing Editor for TruckSeries.com. You can follow him online at twitter.com/tomjensen100.