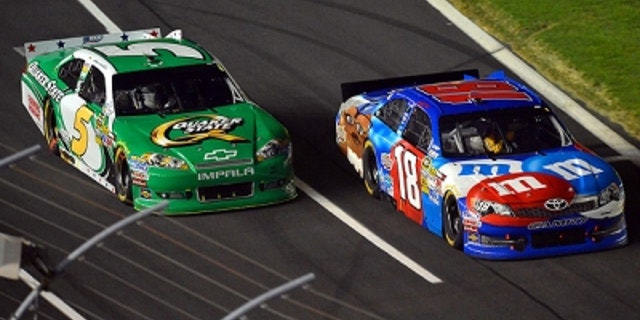 Sunday night's Coca-Cola 600 at Charlotte marked the one-third point of the Sprint Cup season. More importantly, only 14 races remain before the Chase for the Sprint Cup cutoff race Sept. 8 at Richmond International Raceway.
Going into Sunday's race at Dover International Speedway, almost half of the drivers in the Sprint Cup top 10 remain winless, and only point leader Greg Biffle has finished more than half – seven – of the season's races in the top five.
Has "point" racing taken over the sport? The numbers would suggest that there is at least trending in that direction.
Dale Earnhardt Jr., Martin Truex Jr. and Kevin Harvick have solid spots in the points top seven without a win. And Brad Keselowski, with two victories, is outside the top 10 in 11th.
Even with the relatively new point system, it remains true in NASCAR racing that a handful of top fives is better than a single victory.
"Bottom line, I think everyone is so concerned with points nowadays," Denny Hamlin said. "You know, if you wreck and you finish in the 30s, you're going to take 10 races to get that back. I think everyone's just a little bit more patient on restarts, as crazy as that sounds.
"It's just not as wild on restarts as it used to be a couple years ago. Everyone is minding their Ps and Qs, trying to get the best finish out of their day, knowing the one thing you can't overcome in a race is a crash."
Hamlin exaggerated a bit the dark side of a wreck as far as points are concerned, but it's relatively clear that some drivers are riding more with a big-picture focus than with the let's-run-to-the-front concept.
"I think that some people got hurt by crashes early on in the year last year and they weren't able to recover simply because these races are going green," Hamlin said. "There's not as many wrecks.
"It used to be that in the Chase, you knew you always had a mulligan; everyone was going to have a bad race. I don't know if you can do that nowadays. There aren't any wrecks. You have to count on someone really blowing up to have a bad day. That's really the only thing that can take someone out of the running.
"I think everyone just recognizes the points system and sees how it works. … We know if you finish in the 30s, it's almost like not even showing up. Five points, that's not much."
Kenny Francis, crew chief for Kasey Kahne, said the point system still "kind of rewards consistency. It's bad when you don't finish well. When you have a bad finish, it hurts you pretty bad.
"I don't know if it's right, wrong, indifferent. It is what it is, and that's what we work with. I think it's fair. I think everyone's happy with it. We just feel like, number one, we want to win races, because this is what this is all about. We're out here racing."
Sprint Cup racing has been remarkably clean this season. Drivers raced 1,000 laps over the Texas-Kansas-Richmond stretch with no multi-car accidents, and there were no multi-car crashes in Sunday night's 600, the longest race of the season. In fact, the race was completed in race-record time – only three hours and 51 minutes, a "lightning round" for the Charlotte marathon.
Hamlin said drivers and teams have become adjusted to the "new" race car, one that was raced full-time for the first time in 2008.
"I think everyone is so used to these cars now," he said. "I think, at the beginning, these cars were a tremendous handful to drive. Obviously, we saw some wrecks because of it, especially on restarts."
The foxes in the henhouse, of course, in this situation are the Chase wild card positions, two spots that will go to the drivers outside the top 10 (but inside the top 20) who have the most wins. A sudden burst of victory-lane activity can lift drivers whose seasons have been branded by inconsistency into the run for the championship.
Mike Hembree is NASCAR Editor for SPEED.com and has been covering motorsports for 30 years. He is a six-time winner of the National Motorsports Press Association Writer of the Year Award.