CUP: Return To Title Form For Stewart-Haas?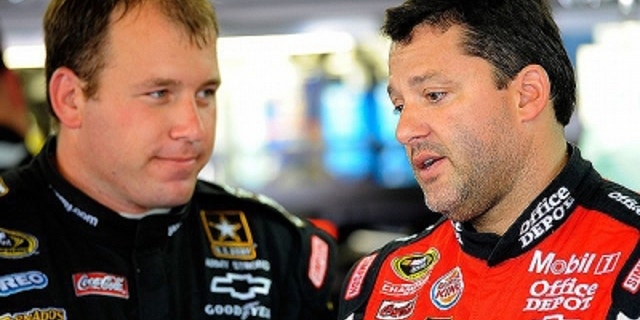 NEWYou can now listen to Fox News articles!
With his White House chat with President Obama behind him, three-time and reigning NASCAR Sprint Cup champion Tony Stewart is looking for a strong outing this weekend at Kansas Speedway.
Stewart and the 11 other drivers who were in last year's Chase for the Sprint Cup visited the White House Tuesday, but now it's back to business. Stewart-Haas Racing, the team that Stewart co-owns and drives for, has won eight out of the last 17 NASCAR Sprint Cup races dating back to September 2011.
But last week's race at Texas Motor Speedway was the team's worst of the year: Stewart finished 24th, while teammate Ryan Newman was 21st. Both men ended the day two laps down.
Do not expect a repeat of the mediocre Texas performance in Sunday's STP 400 at the 1.5-mile Kansas track. Stewart is a two-time winner with five top-five finishes here, while Newman owns one Kansas victory and three top fives.
Stewart likes Kansas because the track surface is worn out. In fact, after Sunday's race, it's scheduled to be repaved in time for the fall race.
Because the surface is old and aged, it allows multiple racing lines, according to the three-time champion.
"You don't want to be stuck following guys and not being able to move around and pass," said Stewart. "It just makes you confident that at least you've got options when you go in the corner (at Kansas). You can go and help yourself out as a driver, kind of like what we talk about at Michigan about being able to move around on the track. It makes the place a lot more fun when you're able to move around. The first couple of times that we went there, we all dreaded it because it was just single-file racing. Now, you have the ability to move around on the race track more."
As for Newman, he actually ran better in the early days at Kansas, finishing second in 2001 and '02, before winning in '03. In his last nine Kansas starts, he has just a single top-10, but he's optimistic this time out. Newman will drive the same chassis he finished fourth with earlier this year at Las Vegas, which gives him an added measure of confidence.
As for the Texas debacle, that was something of a fluke, as the track stayed green for the final 234 of 334 laps, which meant teams couldn't make large chassis adjustments during green-flag pit stops.
"Things didn't go our way at Texas, but even with that finish, I still feel like our intermediate program has really improved over the past two seasons," said Newman. "We had a great run in Las Vegas. We didn't qualify where we had hoped, starting 18th, but the guys tweaked on the car and made it better and we ran in the top-10 for most of the day. Then, on the last restart, I was just in the right place at the right time and we went from eighth to fourth.
"So I'm confident heading into Kansas. I've compared the Kansas track to Las Vegas before, and we've got the same car, so we're looking forward to getting back up front and competing for a win this weekend at Kansas. It's been a long time, but I have been in victory lane here before."
Tom Jensen is the Editor in Chief of SPEED.com, Senior NASCAR Editor at RACER and a contributing Editor for TruckSeries.com. You can follow him online at twitter.com/tomjensen100.