CUP: MWR Rolls Toward Chase Breakthrough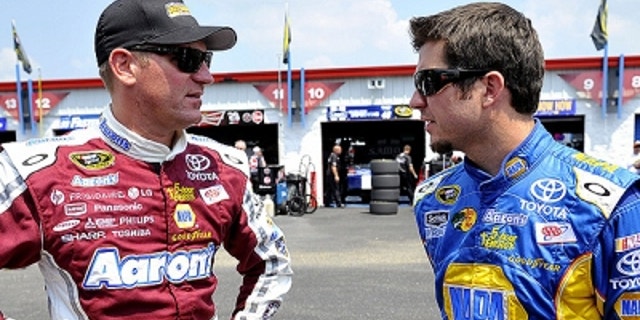 The transformative season of Michael Waltrip Racing rolls on.
MWR, looking to break into Chase competition for the first time, appears on the verge of doing just that – twice.
With seven races left to the Chase cutoff, MWR's Martin Truex Jr. is eighth in points, and teammate Clint Bowyer is ninth. Although calamity could occur, both are comfortably inside the top 10 – Chase qualifying territory.
Putting both full-time drivers in the Chase would be a major step for a team that has struggled to find solid footing since Michael Waltrip jumped into the sport as an owner with Toyota in 2007. Financial input from co-owner Rob Kauffman kept the team alive during a difficult time, and now MWR's drivers are threatening the sport's best.
Bowyer finished third Sunday at New Hampshire Motor Speedway to jump a spot in points from 10th. Two races earlier, he scored his first win for MWR, also putting crew chief Brian Pattie in victory lane a half-year after he was booted by Earnhardt Ganassi Racing.
"Pattie does a great job at calling races, probably the best I ever had at calling races, using strategy to get in the fight at the end," Bowyer said of the New Hampshire race. "We put four tires on when everybody put two on. I got pretty aggressive there to be on the bottom, got around a lot of cars. That enabled us to put two on the next caution, get gone before Denny (Hamlin) and the rest of those guys run us down.
"Just a great team effort. That's what it takes, is team chemistry. I feel like we keep getting better and better at that with a young group with every week."
Bowyer has 10 top-10 finishes, more than Tony Stewart, Kevin Harvick, Carl Edwards, Kyle Busch, Ryan Newman and Jeff Gordon.
Truex Jr. remains winless this year, but his team's solid consistency has kept him in the top eight in the point standings since the second race of the season. He has only one finish lower than 20th in the past nine races and has nine top 10s overall.
The team's third car, driven by Mark Martin, Brian Vickers and Waltrip, is 12th in owner points.
Mike Hembree is NASCAR Editor for SPEED.com and has been covering motorsports for 30 years. He is a six-time winner of the National Motorsports Press Association Writer of the Year Award.