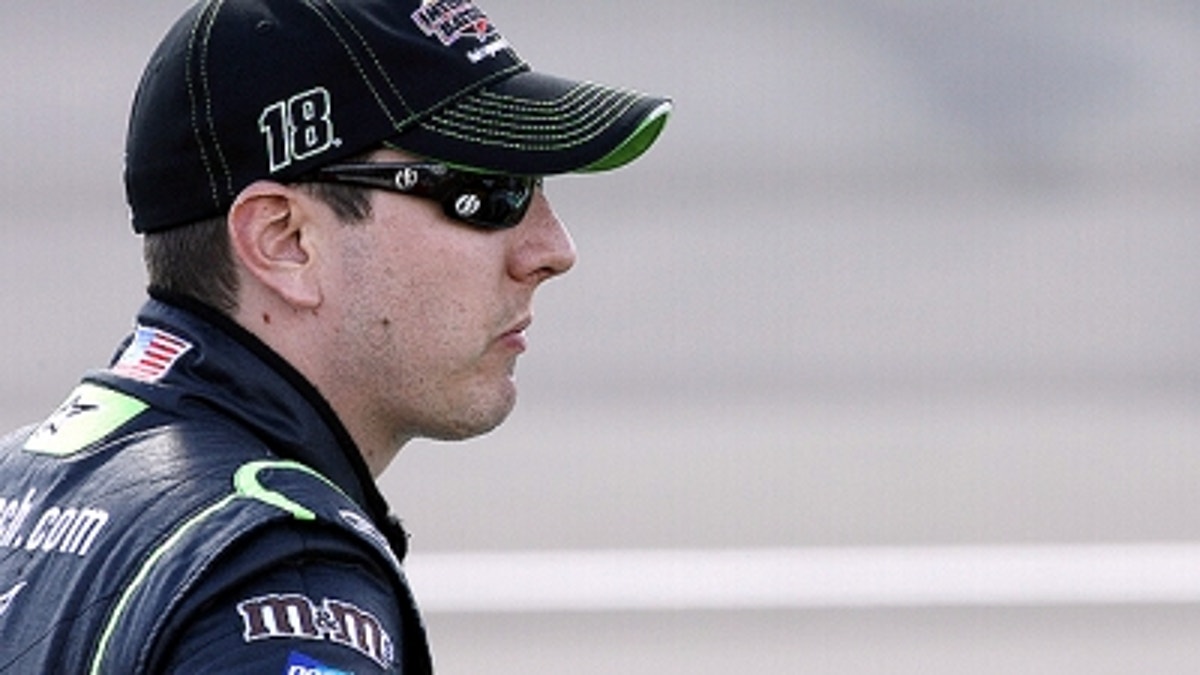 Kyle Busch seems awfully unhappy these days.
That's unfortunate for Busch, and it's bad for NASCAR.
It's been a stressful summer for Busch, who finds himself clinging to one of the wild card spots for the 12-driver Chase for the Sprint Cup championship. Not qualifying for NASCAR's title-deciding series isn't the end of the world -- Busch missed the cut in 2009 and lived to tell about it -- but it's a colossal failure for a driver of his caliber.
So, yeah, his fun meter was flat over the weekend at Bristol. He disliked changes to the track, didn't want to discuss an incident at Watkins Glen with Brad Keselowski he has yet to address and wasn't willing to go in depth about his shaky Chase chances.
"We've got three weeks. Chill out," he said when asked about the importance of getting a win at Bristol.
Busch didn't win, though, and now he's down to two weeks to claim a victory that would dramatically boost his shot at making the Chase. First up is Sunday night's race at Atlanta, where he has one win in 14 career starts, but a more telling average finish of 18th.
But, all this Chase pressure may not be the only issue that's left Busch in a seemingly sour mood. His demeanor is a far cry from his "Rowdy" heyday, when Busch was racking up wins in every series and was a threat to win every time he entered a race.
Why? Because he's hardly running anything anymore.
Busch this year has run just 14 Nationwide races in addition to his Sprint Cup starts, and he's got a single win for the season, in Cup at Richmond in May. At this time last year, he had four Cup wins, five Nationwide wins and five Truck Series wins. And he was doing it an abbreviated schedule by Busch's standards.
He made a big mistake last November at Texas, when he intentionally wrecked Ron Hornaday under caution in the Truck Series race. NASCAR suspended him for the rest of the weekend, and he practically had to grovel to keep his primary Cup sponsor from forcing Joe Gibbs Racing to give him the boot.
Busch kept his job, but he's been a shell of himself since. Part of his punishment was apparently forcing him to stop running in the Truck Series, which Busch had heavily invested in by starting a team at a time when owners are struggling to see the value.
Out of the driver seat, he's thrown himself into the team owner role and expanded Kyle Busch Motorsports into the Nationwide Series. He shares the seat with older brother Kurt, and when he announced the team, there was talk that the Busch brothers could win every Nationwide race they entered.
Yet here we are, 23 races into the season, and Kurt's wins at Richmond in April and Daytona in July stand as KBM's only Nationwide victories. The Nationwide team he had hoped would win the owners championship is instead 10th in points, while his Truck team is 11th.
Some might argue that this newfound idle time and KBM's struggles are weighing on Busch far more than his Chase chances. In fact, it may be contributing to the season he's having in Cup.
When Busch was winning everything, he had an air of invincibility and walked through the garage without a care in the world. If he minded being NASCAR's bad boy, he sure didn't show it. With his trademark celebratory bow to the crowd, and his refusal to back down to anyone, Busch had established himself as the centerpiece in almost every NASCAR's storyline.
Like him or hate him, Busch had you talking about him and that's good for NASCAR's business.
Now? He seems somewhat defeated. The constant booing from fans, the nasty messages on Twitter, the stifling media scrutiny and the never-ending sponsor glad-handing he's got to do as both a driver and a team owner has pushed Busch to the edge of bitterness. He wasn't cocky or confident in his media availability's at Bristol; he was fulfilling an obligation with zero enthusiasm.
Everyone is to blame for this. Busch for the bad decisions and missteps he's made, the media for holding him to a double standard -- he's crucified for not talking when he's angry, but five-time champion Jimmie Johnson got a pass for the exact same thing last week -- and the fans for not appreciating him for the excitement and entertainment he brings to NASCAR.
We'll all follow the Chase down to the wire whether Busch is part of it or not. But if Busch was allowed to be Busch -- you know, the one with 105 victories spanning NASCAR's three national series -- we'd all find it a lot more enjoyable.
Busch announced Monday he'll be back in his truck this weekend at Atlanta. It will be his first start of the season, and the first weekend he's running all three series again. Maybe that's the medicine he needs to get his groove back.
You can root for him to win, or you can root for him to never make it to Victory Lane again. Either way, he needs to be part of the conversation again.