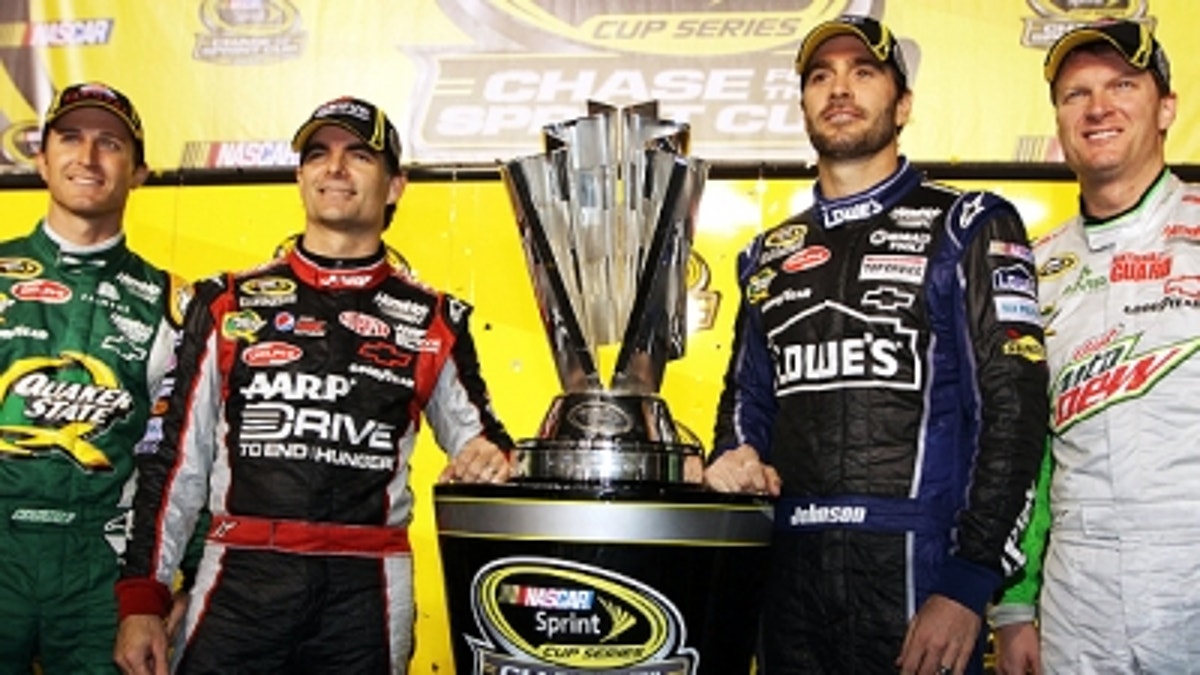 The force of the numbers makes Hendrick Motorsports look pretty good entering the first race of the Chase for the Sprint Cup.
Team owner Rick Hendrick has a one-in-three chance of returning to the head table for the Las Vegas awards banquet with Jimmie Johnson, Dale Earnhardt Jr., Kasey Kahne and Jeff Gordon in the Chase. And, counting the Hendrick "satellite" team of Stewart-Haas Racing and driver Tony Stewart, Hendrick has an additional entry.
Clearly, keeping the championship from Hendrick's hands is going to be difficult. He and his employees are more than familiar with the process, Johnson having won the title five straight years from 2006 to 2010 before Stewart scored last season.
The figures are imposing. Johnson has won 20 Chase races since the format debuted in 2004, and Hendrick's four drivers have totaled 27 victories. Remarkably, Johnson has led 15 percent of all Chase laps run since 2004. No other driver is even close to that figure.
How do you beat the numbers?
"I think we need to do exactly what we've been doing," said Greg Biffle, the series point leader much of the season. "We've beaten him (Johnson) up to this point. We just need to do it for 10 more weeks. We all are going to pick up our performance a little bit.
"These 10 races are different race tracks for different drivers. Obviously, they're 10 good tracks for Jimmie because he has good stats. It doesn't matter to me, really, that they have four drivers in it. I don't look at the organization and say, 'I need to beat Hendrick.' I've got beat Kasey Kahne and Jeff Gordon and Dale Jr. and, of course, Jimmie Johnson."
Brad Keselowski, like Biffle seeking his first Sprint Cup championship, said his concentration will be on his own situation, not the Hendrick teams'.
"You don't look at them," he said. "You just do your job the best you can. You can't overthink it.
"I know it improves their odds, but that's about it. They're fighting each other, as well. Once the Chase starts, it's every man for himself.
"The Hendrick group has phenomenal resources, great people, great drivers – everything it takes. Certainly, when the money is on the line, they step up like everyone else as to. They have a better record of doing that. They deserve credit for that.
"We have to find a way to do it ourselves."
That search begins Sunday.
Mike Hembree is NASCAR Editor for SPEED.com and has been covering motorsports for 30 years. He is a six-time winner of the National Motorsports Press Association Writer of the Year Award.