CUP: Gordon To Hit 700 Straight Starts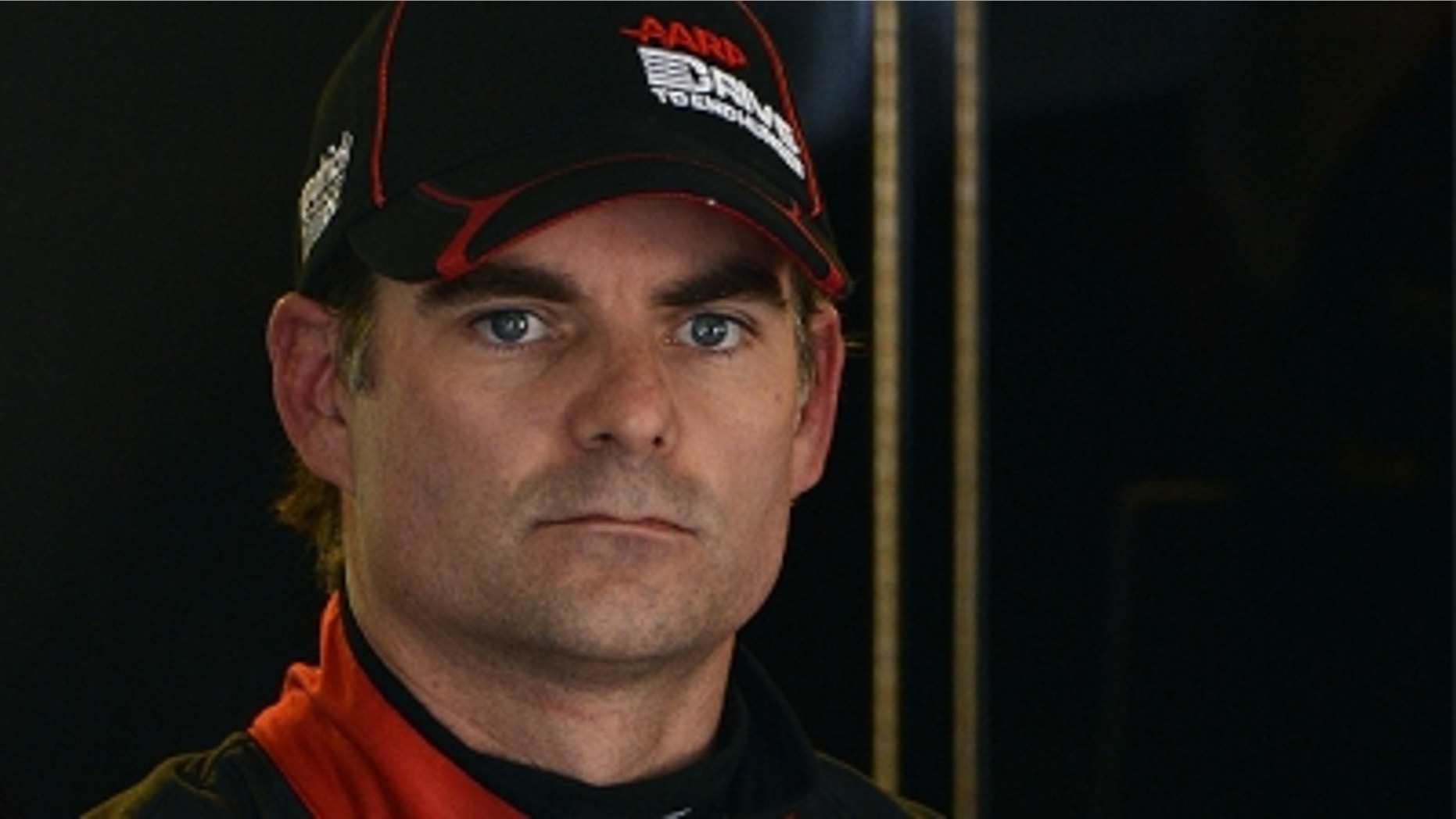 The driver once known as "Wonder Boy" will make his 700th consecutive Sprint Cup start this weekend at Darlington Raceway.
Jeff Gordon, 41, holds the record among active athletes for most consecutive starts in U.S. professional sports at 699. Bobby Labonte, 49, is second with 698 consecutive races. Among stick and ball athletes, Jay Bouwmeester of the St. Louis Blues tops the chart. He played in his 636th straight game in Friday night's playoff game against the Los Angeles Kings.
"It's hard to imagine he's the iron man in the sport, isn't it?" Mark Martin said. "What an incredible career he's had."
With four Sprint Cup championships and 87 victories, third on the all-time win list behind Richard Petty and David Pearson, Gordon remains among NASCAR's elite. And when he straps into the No. 24 Chevrolet at Darlington Raceway on Saturday night, Gordon also will be one race closer to reaching the series record of 789 consecutive starts held by Ricky Rudd.
But will Gordon — who once promised to retire at 40 — attempt to race that long?
"Never say never, but that to me is like David Pearson's 105 wins," said Gordon on the next all-time win milestone in Sprint Cup. "It's too far out there. You have to get closer before you can think realistically about those things.
"I never dreamed I'd make 700 consecutive starts. It's just an amazing thing for me to try to swallow right now, because it's been an amazing run of great teams and cars and going from like 28 races my first year now to 36. So a lot of things happened over the years. So, I'm just enjoying the moment right now of those 700 and not thinking ahead too much."
Gordon was 21 when he started racing in the Cup Series full-time in 1993 — and he's stayed the course with Hendrick Motorsports throughout his entire career. We've watched him grow up, get married, divorced, married again and start a family of his own. He's expanded his image well beyond NASCAR, from his philanthropic endeavors to becoming the first race-car driver to host "Saturday Night Live."
From a competitive standpoint, Gordon, who qualified eighth at Darlington Raceway on Friday and is currently 13th in the point standings, has qualified for eight of the Chase for the Sprint Cup "playoffs" since the system debuted in 2004. In recent years, the only issue that has slowed Gordon is chronic back problems — something that hampers many drivers.
"I didn't know what it was when it first happened and I started just getting these different types of pains during the race and muscles tightening up and it definitely takes your focus off of driving the car and feeling the car the way that you need to do to go out there and get the most out of it," Gordon said. "And so now, over time, I've worked with doctors in managing that. ...
"It's just pain. It's not like there's something happening in there that I'm damaging where I should not be pushing myself. All the work I've put into it has certainly helped me. Shoot, several years ago I didn't think I was going to be driving much longer because of that pain. ... So now, I'm hobbling out of the car, but I'm able to walk and I feel pretty decent inside the car."
Gordon insists his love of racing has kept him going — particularly in his golden years behind the wheel. Gordon said both he and his team are "still capable" of remaining competitive even though he acknowledged on Friday that recently it's "been a struggle" posting top 10 finishes. Certainly, what Gordon wants to avoid most of all is being an athlete that holds on well past his prime.
"Every driver at a young age says, 'I don't want to end my career like that. I want to go out on top.' You either want to be able to walk away from it as a champion or winning that race or at least being competitive, if you could choose," Gordon said. "But that's not always the way it happens. Along the way, guys start making more money at the end of their career not winning races than they were when they were winning races. So, it's kind of hard to step away from that.
"And just the love and desire you have for getting out there and driving that car. I think Mark Martin has shown me that more than anybody. He thought he could step away, and then he realized how much he missed it and how much it meant to him to go do it. He just didn't want to do it on a full-time schedule."
Martin, who was 34 and in his second phase of Cup competition when Gordon first started two decades ago, said the transition will be easier for his former Hendrick teammate than Gordon expects. Martin said if Gordon ever opts for semi-retirement, he'll discover "he loves racing more than he realizes."
"These guys are all scared to try to do what I've done, and they can," Martin said. "They just don't know it. It can be done. ... Part-time is pretty cool. I know it's not the most popular thing from NASCAR's side, but sometimes it's better than losing the guy altogether — having one of the superstars of the sport being part-time like Jeff Gordon would be better than not having him at all."
Gordon has a lifetime contract with Hendrick Motorsports and is locked into an organization that perennially puts a strong product on the track. With that as incentive, he feels "optimistic" that his team can persevere in the second half of the season — and yes, perhaps one day go out on top. But for now, Gordon won't allow himself — at least publicly — to ponder his future.
"It's so far out there I'm not thinking about it," Gordon said. "How many races will I be at at the end of this season? That's the only thing I'm looking at right now. I just never have been one to look that far ahead. … I just look at what are our sponsors and how they signed and how am I feeling and how competitive am I and does Rick want me in the seat and am I valuable to the organization?
"Once you get those questions out of the way during the offseason, then you just go and drive the wheels off of it and do your best as a driver. So, I pretty much look at one year at a time at this stage. So I don't know if that's going to take me five more years or one more year. I really don't know."
GOING FOR FIVE
Patience has paid off for Aric Almirola.
In the last year, questions to Almirola have evolved from "Where are you racing next year?" to "What's it like driving for Richard Petty?"
Almirola has posted four consecutive top 10 finishes in the No. 43 Richard Petty Motorsports Ford this season and moved to seventh in the point standings.
"It's different," said Almirola, who qualified 18th on Friday. "I'm not used to it, for sure, but it feels good. I just want to keep it going. That's the biggest thing is when you get in a spot like this, it almost adds more pressure to you, not that I feel like I have any pressure, but you just want to keep it going. You don't want it to stop.
"I don't want to go back to the lows I had of last year, where it was a great day for us when we ran in the top 20 because on average we'd run 25th. That was no fun. I was getting on the airplane on Thursday afternoons not even looking forward to going to race, and I should be because it's what I love to do. I probably have one of the coolest jobs in the world. I should have been stoked to get on the airplane every week, but I wasn't and now I am."
Almirola credits his crew chief Todd Parrott for the change. When the former championship crew chief took over in September last year for the first race in the Chase for the Championship, Almirola felt he had a comrade who "believed" in him from the beginning. Parrott didn't tell his driver how to do his job, he just offered support and adjusted the car to his liking.
In the final 10 races of 2012, Almirola climbed two positions in the point standings (20th) with a season-best fourth-place run at Martinsville and a seventh-place finish in the season finale at Homestead Miami Speedway.
"He didn't treat me like a boss," Almirola said. "He didn't treat me like a veteran crew chief and I was a rookie driver. He just treated me like a friend, and we worked on it together. ... We're going to prove people wrong together. That was our mentality.
"And it's been a big breath of fresh air for me, because that was the first crew chief I've ever had that when I told him something was wrong with the car, he went to work on it and tried to fix it and didn't try to fix my driving."
And for Almirola, that's been a game-changer. Ten races into the season, he's already matched his top 10 finishes for last year. Although the team had a late start on the new Generation 6 car, the first test of the season on an intermediate track at Charlotte Motor Speedway in January set the pace for Almirola. The feel of the Gen 6 suited his driving style.
"We had a lot of speed in our car and ended the test the quickest car there, so, like I said, I'm not overly surprised at how well we've run this year," Almirola said.
"… We don't have the money and financial resources and even the parts and pieces side of the resources like the top-tier teams do, but that's what makes running so good so satisfying, because we do it with great people. That's what I see out of Richard Petty Motorsports and out of this 43 team especially. In this sport you can have all of the best parts and pieces in the world, but if you don't have the right people to put them together, you're still going to struggle. We don't have all of the absolute best parts and pieces that we could possibly get, but we have great people and that makes up for a lot of it."
NUMBERS GAME
12 — Seasons since Kurt Busch's last pole at Darlington Raceway — the youngest driver to pull off the feat at 23 years and 29 days old.
16 — Career Sprint Cup poles for Busch.
169.205 mph — Best 10 consecutive lap average in Happy Hour set by Clint Bowyer.
SAY WHAT?
Jimmie Johnson's response to NASCAR's decision not to fine Ryan Newman for his comments after Talladega and whether there should be censorship in the sport:
"I think drivers are going to say what they want regardless of the fine. It's a chance to sound off. Some guys may have the composure to navigate what they say when the camera comes out, when they are good and mad in those moments. I applaud them for that. I would say the majority of us don't have that filter. There are certainly some that come to mind quickly that don't have that filter.
"We do have a format to speak our mind. I think the question at the end of the day really is in the responsibility falls on the drivers' shoulders. Is this going to help our sport? Me taking this microphone right now and saying what is on my mind, is it going to help our sport? Some can call it a cop-out, they can call it whatever they want, but at the end of the day, we need to protect our sport and grow our sport."