CUP: Gordon Banking On Momentum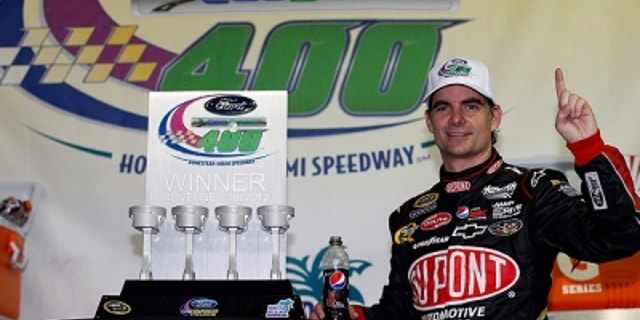 With two races left in the 2012 season, Jeff Gordon, winner of four Sprint Cup championships, was asked about what it takes to become a champion.
"It's a lot different … what it takes today versus what it used to take because of the Chase format," Gordon said. "I'm probably not the best guy to talk to, but usually the same thing holds true. You have to work hard, you have to be a great team and you've got to be willing to risk just about anything to put yourself out there to make the difference up, whether it be a win, one position or just to keep yourself in the game."
A few days later, Gordon put himself "out there" with a big decision he later regretted, intentionally crashing Clint Bowyer in the race at Phoenix, an ugly extension of a simmering feud between the two. Gordon wasn't racing for the championship, of course; ironically, Bowyer was.
The following week was a tough one for Gordon as he dealt with the fallout from the Phoenix incident and NASCAR's decision to fine him $100,000 and 25 points. He needed a quick turnaround, a subject-changer and a momentum-builder.
He got all three in the season finale, winning the Ford EcoBoost 400 to finish in the top 10 in points and provide a bit of a liftoff for the 2013 season.
Gordon also won at Pocono last season. But the story of his year was a plethora of "almosts," races that were going his way only to turn elsewhere because of one nagging problem or another.
Homestead possibly healed that rupture, and Gordon could be on strong footing looking for his fifth championship. His last came in 2001.
"A lot of people go through some incredible runs in the sport, and we went through one of the most amazing ones from '95 through 2001," Gordon said. "I look back at the wins and the championships and the way things were going, and there was no stopping us. We've been close a couple of times [since].
"The Chase has changed things a little bit for us, and there's been a few changes here and there that we've had [that] I've had to personally adapt to as a race car driver that have made it a little more challenging, but I think that's what happens when you're in the sport for a long period of time. I thought that we had a shot at winning one or two more over the years that would have been nice to have."
Gordon bounced back strong late in the regular season last year to make the Chase lineup.
"I love how competitive this team is every year, going out there and battling for race wins and being in the Chase and battling for championships – no different than like what we did to make it into this year's Chase."
Mike Hembree is NASCAR Editor for SPEED.com and has been covering motorsports for 30 years. He is a six-time winner of the National Motorsports Press Association Writer of the Year Award.