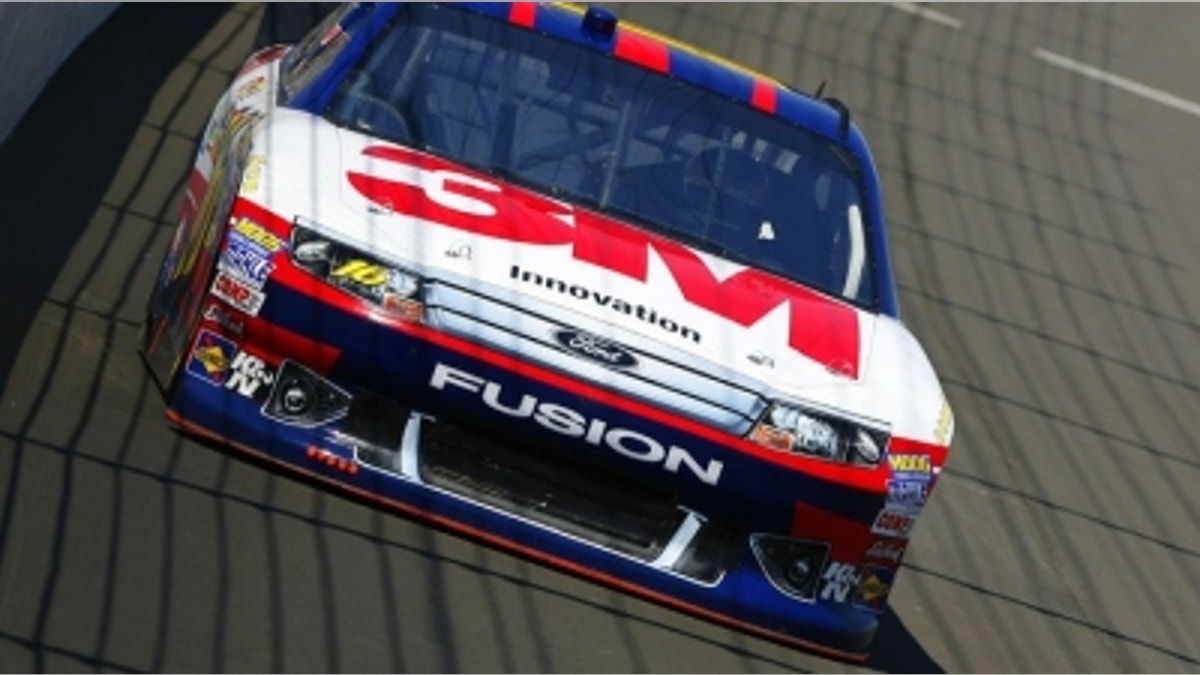 NASCAR Sprint Cup cars reaching 220 mph going into the corner at Michigan International Speedway?
That's Greg Biffle's estimate of his top speed Friday after posting a lap of 204.708 mph in qualifying trim during practice. For Biffle, 42, the lap was a confidence booster for Saturday's time trials, particularly since the Roush Fenway racer believes he left a little speed on the track.
"It was closer to 205 than 204," Biffle pointed out. "Can we round it up? Obviously if qualifying tomorrow was earlier in the day and it was a little cooler out I am sure we would break into the 34-second bracket. (The lap time of 35.172 seconds) is seconds faster than I thought we would go here.v
"To be perfectly honest with you, I wish I could tell you that I was holding my breath and on edge, but it must be a lot of adrenaline because I don't remember. I am trying to think of my lift points on the pedal and things like that. You get so in the moment. We scuffed in so many sets of tires and now I have to think about how I did it because I have to do it again tomorrow."
Biffle was more than 1 mph faster than the next car on the speed chart. Marcos Ambrose, also driving with a RoushYates engine, posted a lap of 203.551mph (35.372 seconds). Biffle said his car stuck solidly to the ground during his mock qualifying lap. But despite the repave that has led to increased speeds this week, Biffle never expected the level of grip the 2-mile track developed over the past 24 hours. He assumes it could be a combination of the rising temperatures and new asphalt along with the tires that Goodyear selected for the track.
"I thought it was going to be a disaster because I thought the track would be slick and we would be sliding all over," he said. "I thought we would be frustrated going into tomorrow not knowing what to expect with track conditions. That was totally not the case. . . . It caught me off guard how fast the track was and how much grip it has right now. Quite frankly, maybe the heat — it is pretty damn hot out there — is actually providing a certain amount of that grip. That could be. Normally it works in reverse.
"It actually wasn't that hard to drive. . . . They did a pretty good job with the racetrack. It seems like the seams on this track are a little more pronounced than (with) the other repaves we have seen. Hopefully, that doesn't spell trouble in two years, three years, four years or whatever. You know how the cars drive when you cross those seams — it plays havoc with them. There is a lot of grip and a lot of fun right now."
Fourteen drivers topped the 200-mph mark during final practice Friday. Five-time Sprint Cup champion Jimmie Johnson, who posted a top lap of 201.247 mph, acknowledges that's "quite a rush for the drivers."
"To be on track and to go this fast and to run an average lap time of over 200 mph, you certainly feel the speed and the comfort is there," Johnson said. "This asphalt and tire combo seems to be decent.
"My first set of tires I was on (it) took a while for them to come in. As I got familiar with the track . . (and) as the track started to rubber up, we put tires on later (and) the car was still pretty comfortable. We wouldn't be able to run this fast if we didn't have comfort in the car and there wasn't a lot of grip."
Goodyear scrambled to address blistering tires at Michigan International Speedway on Friday.
Issues arose starting during testing Thursday and continued during both practices for Sunday's Quicken Loans 400 – affecting nearly a quarter of the field.
Kevin Harvick was among the drivers who experienced problems during the early sessions. Three of his four tires blistered on his long run.
"That is really our only concern," Harvick said. "It's really not about the speed of the car anymore or how it handles. It's really about making the tires survive. That is our biggest goal going forward. Mainly on the left-side tires more on the left-front than the left-rear and along with the right-rear.
"That is our biggest concern right now is we've seen several of those situations through the garage. I don't know that many people ran enough laps to really get to the blistering point. It's either going to come down to the racetrack getting more rubber on it and the speeds slowing down or it's just going to come down to you slowing down and managing the pace to keep the tires on the car."
Greg Stucker, Goodyear's director of race tire sales, said blistering tires is among the challenges any tire company encounter when developing a new combination for a track. Stucker is convinced the problem is related to the heat. Plus, Goodyear never anticipated that speeds would reach the 204-mph mark.
"The speeds are up significantly, but at the same time, I think the racecars are pretty comfortable," Stucker said. "First of all, I think that's a testament to the job the speedway did on the repave. It's very smooth, good asphalt, a really nice job. I think it's also evident that our tire package is fairly suited from a handling perspective — the right-side and the left-side combination. But with that said, we've also seen some of the things that come along with the repave, and that's heat. It started yesterday afternoon."
Goodyear recommended Friday morning that teams switch to scuffs or lightly worn tires after the blistering began Thursday. Goodyear and NASCAR worked quickly to address the issue.
"We got with NASCAR at the end of the day, thought the wise thing to do would be to make the race sets available to the teams, which we did before this morning's session so they could scuff tires in," Stucker said. "Obviously, putting a few laps on, putting a heat cycle in the tires toughens the tire up a just little bit and makes them a little more heat resistant.
"We felt that was a good tool to give to the teams and let them take that option, if they so chose to do that. And a number of them did that in both sessions (Friday). That's the way we ran this afternoon. We continued to see some blistering in this afternoon's session, so obviously we'll be sitting down with all the teams and trying to understand what they were doing at the time and try to understand what we can do to try and help the situation. The tire is comfortable. It's a good package. The racetrack is good, and we'll just try to work through that."