CUP: Daytona 500 Media Day Updates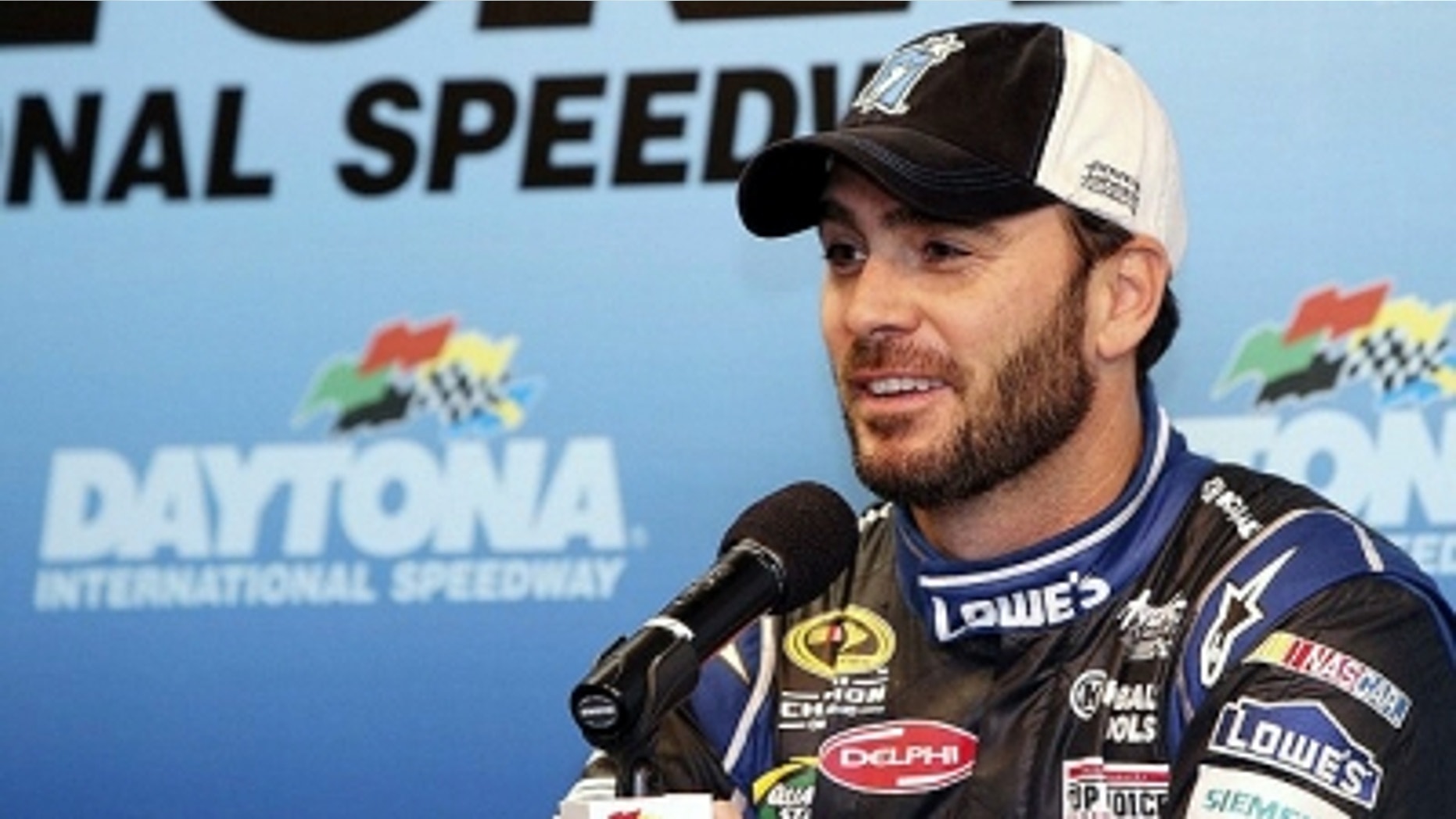 What's on NASCAR drivers' minds mere hours before they hit the track for the start of the 2012 Sprint Cup Series season? Welcome to FOXSports.com's Daytona 500 Media Day blog. The action kicks off at 8 a.m. ET, and we will post updates throughout the day.
Editor's Note: The most recent postings will be added to the top of this page.
TWEET, TWEET
@JimmieJohnson says he'll do anything to win the Daytona 500 "even a last lap crash" #nascar — Lee Spencer (@CandiceSpencer)
In 2011 @JimmieJohnson says the 48 team beat itself #nascar — Lee Spencer (@CandiceSpencer)
MCDOWELL LANDS CUP RIDE
Michael McDowell, in his fifth year of at least part-time competition in the NASCAR Sprint Cup Series, will drive the No. 98 Phil Parsons Racing Ford Fusion for the 2012 season.
Parsons, a former NASCAR driver and current television commentator on SPEED, merged the assets of his PPR team with Whitney Motorsports during the offseason in an effort to bolster his 2012 Sprint Cup effort.
Mike Curb, owner of Curb Records who also has long and successful history of race team ownership in the NASCAR and open-wheel ranks, among others, becomes a partner in the PPR effort for 2012.
"Combining our efforts with Whitney Motorsports with the support of Mike Curb and having Michael behind the wheel of the No. 98 Ford means we'll open the season at Daytona better prepared than ever before," Parsons said. "We feel the timing couldn't be better for us to build this program into a proper Sprint Cup Series effort."
The team will use Roush Yates engines and has hired veteran crew chief Gene Nead, who has worked with McDowell in previous Cup and Nationwide Series efforts at PPR and Michael Waltrip Racing.
"I'm particularly excited about this program for a number of reasons," Curb said. "The players who have come together to form this latest effort shows that it's built to succeed, and I'm glad to be a part of it. Michael is a tremendous driving talent and is a wonderful young man. He has a special interest in our Christian music operation at Curb Records and building partnership opportunities involving that segment of our business. It's truly exciting."
McDowell, who has 84 Cup starts to his credit, says he is looking forward to the endeavor.
"This opportunity will allow me to expand my brand and put me in a position to work with the types of companies I've been wanting to work with for a long time," McDowell said. "On the racetrack, I'm excited about the chance to have my best NASCAR season ever."
BOB OSBORNE TO MISS BUDWEISER SHOOTOUT
Chip Bolin will serve as Carl Edwards' NASCAR Sprint Cup crew chief this weekend at Daytona International Speedway for the Budweiser Shootout. Bolin will fill in for regular crew chief Bob Osborne, who will miss the race following the death of his father.
Osborne will return to Daytona next week to lead Edwards and the No. 99 team in the Gatorade Duels and the Daytona 500. FULL STORY
DOING IT FOR THE KIDS
AJ Allmendinger had lots of help to reach the pinnacle of stock car racing. Now, he's looking to pay it forward.
The new driver of the No. 22 Shell-Pennzoil Dodge for Penske Racing announced a new program that will see a deserving young karter receive a scholarship to race in the 2012 World Karting Association Zoom Zoom Nationals runing March 23-25 at Carolina Motorsports Park in Kershaw, SC. The scholarship winner will also be set to compete in the Rotax Grand Nationals in August and SKUSA SuperNationals in November.
The scholarship prize winner will also receive media and management training from Walldinger Racing, Allmendinger's management firm.
While racing his way through the ranks, Allmendinger's scholarships included prizes from the Skip Barber Racing School as well as being selected to compete in the 2001-02 New Zealand Formula Ford Championship as a winner of the Team USA Scholarship, run by longtime motorsports writer and broadcaster Jeremy Shaw.
"I was very lucky, so many different times through my career, to get the support that I needed to keep racing and keep moving up," said Allmendinger. "So I feel very fortunate to be in a position to try to help someone else who is trying to do the same thing. I've had really great partners through my career and I think you can expect some exciting announcements as we go forward with this program. I am really looking forward to this being the start of something good for some young racer out there."
Interested applicants ages 13-16 are asked to send their CV, racing credentials, photo, and short summary of their racing goals to: Karting@ajallmendinger.com. Deadline for entry is March 10.