CUP: Can Hendrick Hot Streak Continue?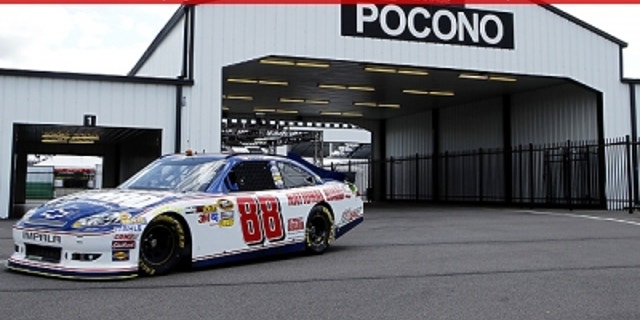 For the first three months of the 2012 NASCAR Sprint Cup season, the powerhouse Hendrick Motorsports team couldn't win.
Over the last month, they can't lose.
In Sunday's Pocono 400, Hendrick drivers Jimmie Johnson, Dale Earnhardt Jr., Kasey Kahne and Jeff Gordon will see if they can keep the hot streak going on a track that's been resurfaced since the last time the Sprint Cup cars raced here.
The early results have been encouraging.
In Friday's opening round of Cup practice, Earnhardt was third behind Mark Martin and Jamie McMurray, with Johnson fourth, Kahne seventh and Gordon 15th. Without question, the Hendrick drivers are feeling the mojo right now.
"We're all running really well, so we're all bringing things to the table as far as everybody's got speed, so you kind of want to look at everybody's progress and the changes they've made throughout the test," Earnhardt said Friday at Pocono Raceway. "Typically, if a guy's not fast you won't spend as much time going over his notes as you would the guy who has the speed. So, we're all sort of able to put something in the pot, so to speak, and feel like we're an asset to the company."
Heading into the Pocono 400, Earnhardt is third in the NASCAR Sprint Cup points standings, two spots ahead of Johnson. Kahne is 14th, but just a single point out of the final wild-card spot. Only Gordon, who is 21st points is struggling.
But even Gordon, who is enduring the worst year of his career thanks to bad luck and self-inflicted mistakes, likes the speed in his Hendrick Chevrolets, even though good finishes have been hard to come by.
"I am very confident in how fast our race cars are," Gordon said when asked if he thought he could still make the Chase for the Sprint Cup. "If I was really confident in us making the Chase then we wouldn't be 22nd or wherever we are in points. I'm confident that we've got tracks coming up on the schedule that we can win at. If we can get those wins, we will make it."
Gordon is bullish on the state of the entire Hendrick operation right now.
"I think we've really gotten our act together," said the four-time champion. "We didn't start the season on top of our game, but in great fashion for Hendrick Motorsports, everybody has been working really hard since the start of the season to try to find a little bit more speed and grip in the cars. Over the last month, month and a half we have done that. It is showing with all the cars."
Of course, past results are no guarantee of future performance, especially in NASCAR.
"You just hope that you can maintain that or continue to improve on that as the season goes on to stay ahead of the competition," said Gordon. "This sport is so competitive. Not everything works at every track. The last couple of races we have been to ... there is no doubt our equipment is really good right now."
And while Johnson is happy that all of Hendrick cars are running well, he's even happier that his No. 48 team is hitting on all cylinders.
"I really think the most useful momentum is the momentum of your own team running well," said Johnson, who has won at Darlington, Charlotte and Dover over the past month. "It just builds confidence in all the people that make decisions, even the guys that go over the wall and have to perform. When you are able to pull into victory lane, it just reinforces everything you do and gives you the confidence that everyone needs. Luckily all four of our Hendrick cars have been running very, very well, so we've been reaping the rewards of both forms of momentum."
Tom Jensen is the Editor in Chief of SPEED.com, Senior NASCAR Editor at RACER and a contributing Editor for TruckSeries.com. You can follow him online at twitter.com/tomjensen100.