CUP: Can Edwards Climb The Mountain?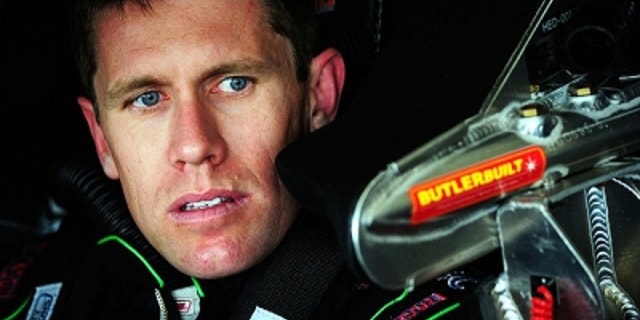 It was the very definition of a racing banzai charge.
Carl Edwards was running second to Jimmie Johnson entering the white flag lap at Kansas Speedway in September 2008. Johnson had dominated the race, leading 123 laps, but Edwards raced in his shadow as they took the white flag.
Johnson protected a lead of several car lengths as they hit the backstretch for the final time, and it was clear that only a ridiculously bold move by Edwards would give him a shot at winning the race.
And Edwards produced exactly that. The bold move, but not the win.
Edwards shot inside of Johnson as they reached the end of the backstretch and momentarily took the lead. But Edwards' momentum carried him high on the track in the third turn, and, as he bumped the wall, Johnson regained the lead and held on to win the race.
Turns out it was Edwards' plan to hit the wall – but ever so lightly, using it as a way to "aim" his car on toward the fourth turn with the lead. His charge was too much, however.
"It was fun, though," Edwards said after the race. "I've always wanted to try that. It doesn't work quite as well as it does on the video games."
Thoughts of Edwards' audacious move are particularly appropriate at the moment because it may take one or more of those charges to put him in this year's version of the Chase for the Sprint Cup.
With seven races remaining to the Chase cutoff, Edwards is only one spot out of the top 10 (and automatic Chase qualification), but he's a daunting 46 points behind 10th-place Brad Keselowski. That's essentially a full race of points.
Additionally, Edwards faces a mountain-like obstacle on the other side of the Chase picture – the wild card. He has no victories.
Would he attempt another late-race, last-gasp, last-breath charge to try to grab an elusive win over the coming weeks?
"Probably," Edwards said. "I have to be careful with it, though. Whenever you go lunging out there and do things that are really risky, there's a reason people don't do a lot of that stuff because there's big potential for a downside. I don't know.
"We need a win bad, but, at the same time, we still have enough races that if we just run solidly and run like we know we can, I think we'll march into the top 10 on our own merit just with points, so I'm not quite to that point yet, but ask me again at Richmond. We'll see what happens."
Edwards' less-than-productive season resulted in the departure this week of crew chief Bob Osborne, who led the team to within one point of the Sprint Cup championship last season. Replacing Osborne is Chad Norris, a veteran Roush Fenway Racing employee who suddenly finds himself in the most pressure-packed situation of his career.
"We'd like to do it both ways," Edwards said. "We'd like to just go out here and dominate a race or two and march into the top seven or eight in points and have a couple wins and not have to worry about it. But, until that point, we'll go do the best we can, score all the points we can and take chances if they're right there in front of us. If I see something I can do that would get us that win, then I'll do it."
Mike Hembree is NASCAR Editor for SPEED.com and has been covering motorsports for 30 years. He is a six-time winner of the National Motorsports Press Association Writer of the Year Award.