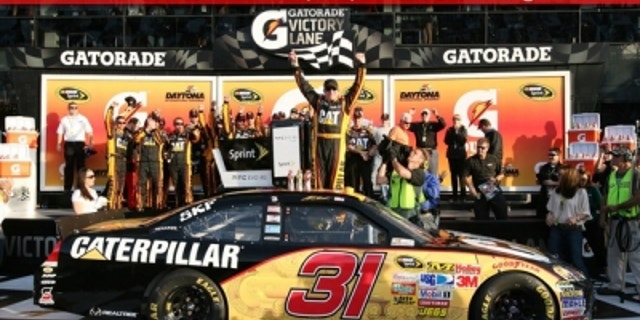 Jeff Burton goes into Daytona Speedweeks confident about his prospects and with good reason.
The 44-year-old South Boston, Va., native had one of the fastest cars at Daytona last year, winning his Gatorade Duel qualifying race and running well all through Speedweeks, before a rare engine failure sidelined his No. 31 Richard Childress Racing Chevrolet during the Daytona 500.
With RCR scaled back to three cars and the No. 31 team getting Roush Fenway Racing alumnus Drew Blickensderfer as its new crew chief, this could be a good season for Burton, who struggled through most of last year, ending up 20th in points.
It all starts this week at Daytona International Speedway, and Burton said one big key for RCR is the power under the hood generated by the Earnhardt-Childress Racing engines. ECR, a joint venture between RCR and Earnhardt Ganassi Racing with Felix Sabates, builds engines for Chevrolet teams in all three of NASCAR's top divisions, as well as ARCA and other series.
Burton said the ECR restrictor-plate engines are especially good, and the numbers bear that out: Of the last eight points races at Daytona and Talladega Superspeedway, ECR engines have been under the hood of the winning car five times.
"There's always a big emphasis on power," said Burton in an exclusive interview with SPEED.com on Tuesday. "I think power shows up more, just raw horsepower, shows up more at Daytona than other places. That's kind of been the backbone of RCR, the engine program, as it relates to speedway racing. I think the engine guys just do a really good job."
Working together with another team has been helpful for RCR, according to Burton, because it showed that the team's superspeedway cars weren't built with optimal aerodynamics, something they subsequently fixed.
"Recently, I think, the alliance with EGR was a good thing because EGR kind of kicked our butts in qualifying," he said. "And it showed us, with the same power, they were outrunning us. And that made our car guys go to work, because what happens is in speedway racing, when you don't run well, the car guys say, 'Well, the engines are no good,' and the engine guys say, 'Well the cars are no good.' Having the same horsepower go faster than us taught us that we needed to be better. And that ultimately was a good thing for our plate program."
At the most recent NASCAR Sprint Cup restrictor-plate race, Burton finished second to then-teammate Clint Bowyer at Talladega last October. And that gives him some confidence for this year's Speedweeks.
"Every plate race we were really fast last year," said Burton. "We were fast at all four plate races, so I feel like our speed should at least be good. Based on the combination of all of those races — even though we only got one good finish — I'm very optimistic about our plate stuff."
Still, with a substantially revised rules package designed to break up the two-car tandem draft, this year's Daytona 500 is a crapshoot, Burton said.
"I don't think anybody really knows what's going to happen this year," said Burton. "I can't ever remember going into a 500 where there's been as many questions."
In January testing, NASCAR experimented with a number of engine and aerodynamic combinations to try to break up the two-car tandem draft, and Burton thinks more changes could be on the way.
"The effort to minimize the two-car tandem thing — I think we could see rule changes up through the 150s (Gatorade Duel). If what NASCAR has done, isn't going to work, then they are going to have to make changes.
"I can't honestly look you in the eye today and say, 'This is what's going to happen in the Daytona 500,' other than to say it will be a very competitive race and we're going to have a lot of cautions at the end of the race and then it'll be a green flag dash to the finish, because it always is."
Tom Jensen is the Editor in Chief of SPEED.com, Senior NASCAR Editor at RACER and a contributing Editor for TruckSeries.com. You can follow him online at twitter.com/tomjensen100.