CUP: Bristol Power Rankings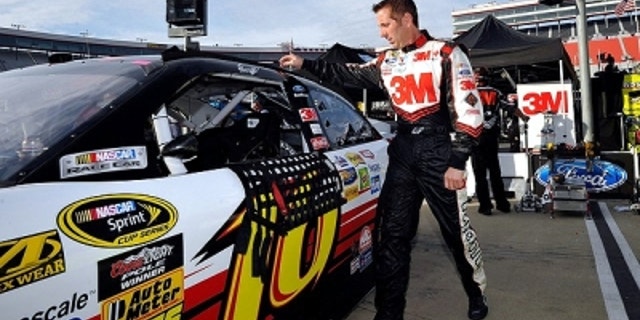 NEWYou can now listen to Fox News articles!
Brad Keselowski waged a stirring duel with Matt Kenseth to win the Food City 500 at Bristol Motor Speedway, but it's Greg Biffle who holds on to the top of this week's FOXSports.com/SPEED.com Power Rankings.
This week's list:
1. GREG BIFFLE — OK, Biffle's 13th-place finish at Bristol was mediocre, especially after qualifying on the pole. The problem is none of his nearest competitors did much, either. Last week: 1st.
2. MATT KENSETH — The 2003 Cup champion moves up to second in the Power Rankings on the basis of his runner-up finish at Bristol. Last week: 7th.
3. KEVIN HARVICK — An 11th-place finish was better than Harvick ran most of the day, but that's how championships are made. Last week: 2nd.
4. MARTIN TRUEX JR. — A season's best third-place finish for Truex, as all three Michael Waltrip Racing cars finish in the top five. Last week: 10th.
5. JIMMIE JOHNSON — Truthfully, Johnson wasn't especially impressive in finishing eighth at Bristol, a track where he had one victory and three finishes of fourth or better in the prior four races. Last week: 3rd.
6. BRAD KESELOWSKI — A dominant victory for Keselowski, who now has won back-to-back races at Bristol. Last week: 20th.
7. BRIAN VICKERS — In his only race so far this year, Vickers led one-fourth of the laps and finished fifth at a track where he'd never even cracked the top 10 before. Last week: Unranked.
8. DENNY HAMLIN — Another disappointing day for Hamlin, with a second consecutive 20th-place finish. Plus loses points for poorly executed pre-race "Dougie." Last week: 5th.
9. DALE EARNHARDT JR. — Earnhardt had a fast car, but made contact with teammate Jeff Gordon, putting him in wall, and got caught speeding on pit road, finishing 15th. Duoh! Last week: 6th.
10. CLINT BOWYER — A great fourth-place finish for Bowyer, hot on the heels of a sixth-place run a week earlier. Things are looking up at MWR. Last week: 14th.
11. TONY STEWART — A tough day for Stewart, who gutted out a 14th-place finish after getting punted. Last week: 4th.
12. JOEY LOGANO — For the second race in a row, Logano's 16th-place finish was best in class among the Joe Gibbs Racing Toyotas. Last week: 15th.
13. PAUL MENARD — Seventh at Vegas and 10th at Bristol. Is it Menardigras time already? Last week: 11th.
14. RYAN NEWMAN — A decent 12th-place finish for Newman, who hung tough most of the afternoon. Last week: 9th.
15. JEFF BURTON — Although he tailed off just a little late, Burton had a strong sixth-place finish. Last week: 16th.
16. CARL EDWARDS — Bummer of a day for Edwards who got taken out in the early race Kasey Kahne crash and finished 39th. Last week: 8th.
17. KYLE BUSCH — Another victim of the Kahne crash, Busch managed to log some laps and finish 32nd. Last week: 13th.
18. JEFF GORDON — Wrecked by his own teammate, Gordon had the kind of day that gives car owners ulcers. Last week: 17th.
19. JUAN PABLO MONTOYA — No jet dryers were harmed in Montoya's season's-best eighth-place finish. Last week: 18th.
20. JAMIE MCMURRAY — A great day overall for Earnhardt Ganassi Racing with Felix Sabates, as McMurray finishes a strong seventh. Last week: 20th.
Tom Jensen is the Editor in Chief of SPEED.com, Senior NASCAR Editor at RACER and a contributing Editor for TruckSeries.com. You can follow him online at twitter.com/tomjensen100.