CUP: Addington Coping With Challenges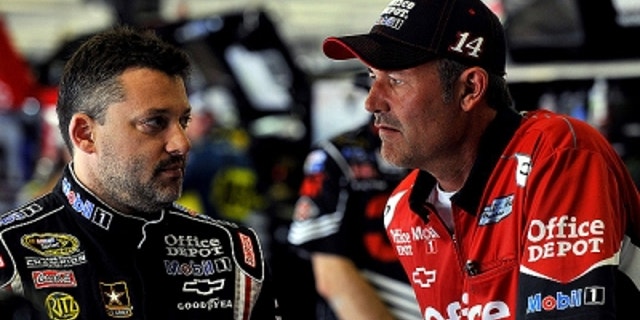 Steve Addington insisted he's not naturally drawn toward working with volatile, abrasive drivers.
It's just the nature of job in the Cup garage.
"Somehow it works out that way," said Addington, laughing. "That's just part of it. You just take what opportunity is there. I've worked with a lot of great drivers and I feel like I'm with the best one in the garage right now."
That would be Tony Stewart. The three-time — and 2011 — Sprint Cup champion is the third prickly and prosperous driver Addington has worked with after crew chief stints with Kyle Busch and Kurt Busch.
Addington hopes to make this relationship stick.
Addington took the job only eight days after Stewart won the NASCAR championship and then fired crew chief Darian Grubb. Addington and Stewart had forged a relationship from their four seasons together at Joe Gibbs Racing. While having a friendship helped ease the transition, there was still a dose of pressure on Addington. He was, after all, the crew chief who had to prove himself as a winner to an organization still in the glow of an amazing 2011.
"It was a little awkward," Addington said. "This was a championship team here. It's a different situation for everybody; for the guys, the organization, myself. You've got a lot of standards to live up. I'm ready for the challenge. It's just a different situation than most people have seen in the sport in a long time."
Grubb was told midway through the Chase for the Sprint Cup championship that he was going to be let go at the end of the season. Stewart had gone winless through the first 26 races of the season, but opened the Chase with back-to-back wins to become a sudden title contender. Stewart's decision was final even after the team won the championship. Grubb was gone and soon landed at JGR as Denny Hamlin's crew chief.
Hamlin and Grubb have two wins and are fourth in the standings.
Stewart is still a respectable eighth even after a disappointing 25th-place finish at Dover International Speedway because he got tangled in an early-race wreck. It was the second straight race he finished 25th, and that came after he drove the No. 14 to 24th four races ago at Talladega. But Stewart has victories at Los Vegas and Fontana — which about guarantee him a spot in the Chase and defense of his title — and two other top fives.
He's heading to Pocono Raceway where he has two wins and 18 top-10s in 26 career Sprint Cup starts.
"We have had some really good runs and we have had some races that we are still scratching our heads about," Stewart said. "We are working through different packages and trying to find the balance that I like. Steve and I are still just getting to a lot of these tracks for the first time. It's that growing pain of getting somewhere with a new guy."
Stewart and Addington are preaching patience. Stewart is traditionally a driver who gets rolling in the summer and he was at his peak in last season's 10-race Chase for the Sprint Cup championship. Both understand there's time to work out the kinks in the cars and get more comfortable behind the scenes.
"It's one good thing about Tony is he understands racing and he knows we're working on it," Addington said. "None of us want to run bad. He understands we're not going to have great weekends every week. But we do need to make more consistent runs."
Aside from the consecutive dud finishes, the duo is having fun at the track.
"I think our communication with each other is really good. He's easy to understand," Stewart said. "I think he understands what I'm talking about. Those are the things that you can't teach they have to come natural and that is coming pretty easy."
Greg Zipadelli also reunited with Stewart this season as competition director at Stewart-Haas Racing after a lengthy stay at JGR. Addington credited Zipadelli with bridging the gaps in communication with the No. 14 and teammate Ryan Newman's car.
Addington is only the third crew chief of Stewart's 13-year career. He won his previous two titles with Greg Zipadelli at JGR.
Addington won 16 races as a crew chief with brothers Kyle and Kurt Busch. He led Kyle Busch to 12 wins at JGR, but was let go with three races remaining in the 2009 season. He then moved to Penske Racing to team with Kyle's older brother, Kurt, and led him to four wins and consecutive berths in the Chase.
"It's just been unfortunate the last five years, I've had three drivers," he said.
So which of the three drivers — who never met a tape recorder and notebook they liked — is the easier driver to deal with?
"Well, I won't go there, but it's been a lot of fun working with them," Addington said. "They're very passionate about what they do and that's part of it. That stuff doesn't bother me. What everybody hears on the radio doesn't bother me at all. I take it personal when the car's not running good, not what they say to me."