Cubs World Series trophy damaged while crowd-surfing at charity concert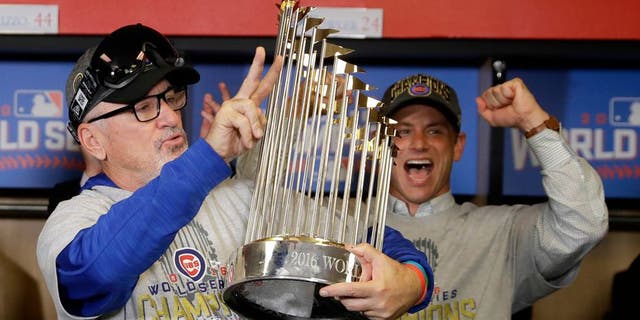 The Cubs and Red Sox teamed up over the weekend for a charity event that featured Bostons 2004 World Series trophy and Chicagos 2016 World Series trophy. But the Cubs historic hardware didnt make it out unscathed.
Apparently, things got a little wild during the "Hot Stove Cool Music" benefit concert in Boston on Saturday night with both of the trophies being passed around the crowd while musicians played on stage. By the way, the musicians included Eddie Vedder and Theo Epstein.
The details from the Chicago Tribune:
"A handful of (the 30) flags came off the trophy during the event Saturday night," Cubs vice president of communications and community affairs Julian Green told the Tribune. "(It) was repaired and was on display Sunday (at Fenway along with the Red Sox trophy)."
All is well and the trophy is presumably somewhere much safer now. And its crowd-surfing days are likely over.