Cubs to explore trade interest in Soler, Baez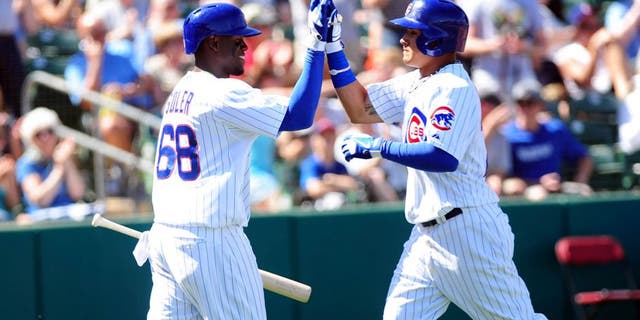 Jorge Soler and Javier Baez could be in different uniforms in 2016. Jennifer Hilderbrand USA TODAY Sports Images
After a 97-win season, the Chicago Cubs are heading into the offseason looking for ways to launch the club further into World Series contention. While signing a big-name free agent starting pitcher remains the priority, the Cubs are still looking for ways to get 'creative' to take care of all the club's needs -- starting with exploring trades with the surplus of major-league ready young talent.
According to FOX Sports' Ken Rosenthal, the Cubs are 'exploring the trade interest' for outfielder Jorge Soler and infielder Javier Baez. Chicago is also looking to trade Starlin Castro, however, however the priority is with Soler and Baez as the shortstop would likely result in a lesser return for the club.
While the Cubs are still reviewing their free-agent pitching options, the team hopes a trade with one of the hitters would bring an equivalent, young pitching talent in return. Chicago fears multi-year deals with multiple veteran free agents could result in an old rotation soon down the road. An upcoming, young pitcher with the similar credentials and potential as Soler or Baez could prevent that situation.
In his first, full season with the Cubs, Soler hit .262 with 10 home runs and 47 RBI, appearing in 101 games. Baez has had less time in the majors, appearing in just 80 games in two seasons, as he spent most of the 2015 season in Triple-A. As a September call-up, the infielder hit for a .289 batting average, while maintaining a .325 on-base percentage in 28 games, 80 plate appearances.