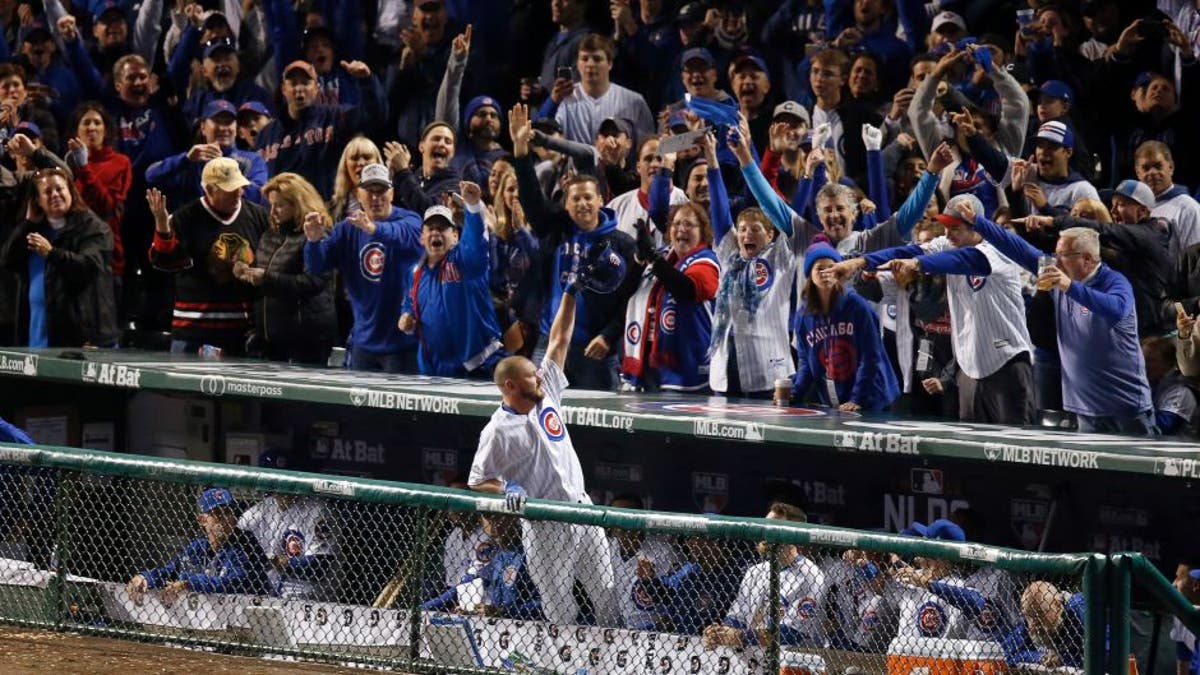 CHICAGO -- Travis Wood took over when starter Kyle Hendricks got hurt and became the first relief pitcher since 1924 to hit a postseason home run, helping the Chicago Cubs beat the San Francisco Giants 5-2 Saturday night for 2-0 NL Division Series lead.
Ben Zobrist put Chicago ahead in the first with a run-scoring single off former Cubs pitcher Jeff Samardzija, and Hendricks hit a two-run single in a three-run second.
Hendricks left with a 4-2 lead in the fourth when he was hit on the right forearm by Angel Pagan's line drive.
Wood struck out Conor Gillaspie to strand Pagan, then sent a one-out offering from George Kontos halfway up the left-field bleachers in the bottom half. The only other reliever to homer in the postseason was the New York Giants' Rosy Ryan in Game 3 of the 1924 World Series.
Given a curtain call by a screaming crowd of 42,392, Wood joined Rick Sutcliffe (1984) and Kerry Wood (2003) as the only Cubs pitchers to go deep in the postseason. Travis Wood has hit nine regular-season homers in his big league career.
Wood pitched a hitless fifth and was credited with the win. Four more relievers completed Chicago's second straight six-hitter, with Aroldis Chapman throwing 12 of 16 pitches at 100 mph and up for his second consecutive save.
Madison Bumgarner, coming off a four-hit shutout of the New York Mets in the NL wild card game, tries to save the Giants' season when the series resumes Monday in San Francisco. The Cubs, who start reigning NL Cy Young Award winner Jake Arrieta, are one win from advancing to an NL Championship Series matchup against the Los Angeles Dodgers or Washington Nationals.
Samardzija's first career playoff start was a short one. The right-hander, who spent his first 61/2 seasons with the Cubs, was pinch hit for in the third after allowing four runs and six hits.
Hendricks, the major league ERA leader, gave up two runs and four hits in 3 2/3 innings.
Down 4-0, San Francisco closed in the third when Gregor Blanco doubled in a run and scored on Brandon Belt's sacrifice fly.
SEEN
Actor and comedian Bill Murray was back cheering on the Cubs for the second night in a row. He was wearing a jacket when he was shown on the videoboard before the second inning, so it was not clear if he was wearing an "I Ain't Afraid of No Goat" shirt as he did on Friday.
Former Cubs closer Lee Smith threw out the first pitch, and Chicago native and former WWE star CM Punk delivered the "Play Ball!" call before the game.
Actor Jeff Garlin sang "Take Me Out To The Ball Game" during the seventh-inning stretch.
UP NEXT
Giants: Bumgarner has pitched 23 consecutive postseason innings and is 8-3 with a 1.94 ERA in 13 postseason starts and 15 appearances.
Cubs: Arrieta won 18 games but had a 4.60 ERA in five starts last month. He gave up seven runs in a loss to Pittsburgh on Sept. 28.