Cris 'Cyborg' credits Conor McGregor for convincing the UFC to give her a shot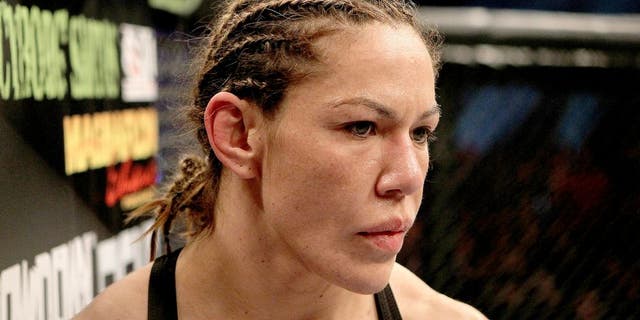 Cris "Cyborg" Justino has long been considered one of the top pound-for-pound women's fighters on the planet, but fighting at 145 pounds gave her no options to fight in the UFC.
While Cyborg has actually been under contract with Zuffa (parent company to the UFC) for several years, it appeared hopeless that she would ever actually fight in the Octagon because the promotion doesn't hold bouts in her weight class.
That all changed this week when Cyborg was announced as part of the upcoming UFC 198 fight card in Brazil where she'll face Leslie Smith in a catch weight bout at 140 pounds.
Cyborg believes she finally got the call when the UFC realized that it's not about weight classes as much as making the biggest fights possible that the fans want to see. And for that, she thanks one outspoken Irishman.
"I think [Conor] McGregor opened the door for this," Justino told FOX Sports on Tuesday. "He's fighting at different weights. I think he opened the door to make this fight happen. There you go. I'm really happy for the opportunity and I'll do my best in Curitiba and of course I'll try for the KO and I'll do my best."
McGregor left the featherweight division one fight after winning the title against Jose Aldo at UFC 194 for the chance to then compete for the lightweight title in March.
An injury derailed that fight from happening so McGregor opted to move up another division for a fight with Nate Diaz at welterweight at UFC 196.
While McGregor came up short in the fight, Cyborg saw how his willingness to step up for the opportunity -- and then selling the most pay-per-views in UFC history -- played a big part in her finally receiving a similar shot to fight in the same promotion.
"I think when you clean your division and you don't have any more opponents or you want challenges, it's OK to go up or you can try to go down. All the fighters go up, but now I have to go down. If you can go up or go down to make a big challenge for the fans, it's good for everyone," Justino explained.
"I think McGregor opened the door for this fight. He [sold] a lot of pay-per-views and it opened the opportunity. I think the UFC sees the great opportunity and it's a great time."
Always open to the possibility of super fights against the elite bantamweights in the UFC, Cyborg is still more than willing to meet them halfway to make the matchups fans want to see most.
For now, Cyborg is only focused on her matchup with Smith and the fight taking place on May 14 in her home country of Brazil.
Assuming she walks away victorious, Cyborg hopes this fight will give her the chance for more opportunities in the UFC, and she is ready for the challenge whenever it's offered to her.
"This doesn't depend on me. Of course, I have to keep defending my belt at 145 [in Invicta FC], I don't know what the UFC has for me. I have to step in the cage now, make 140, and make a great fight for them," Justino said.
"I think it will open the door for me for more fights at 140. Maybe I can fight Miesha [Tate] at 140 and Holly Holm and maybe Ronda [Rousey] when she gets off the pillow. I don't know."