Crazy sequence in Sharks game features massive hit and beautiful goal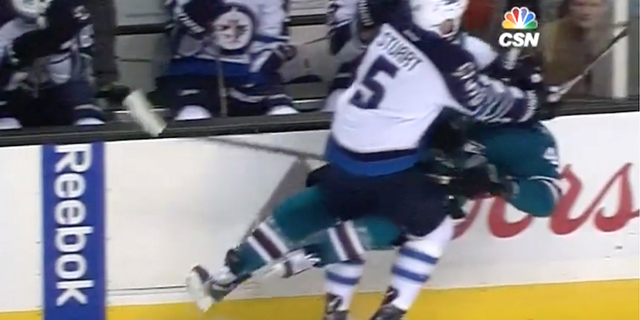 NEWYou can now listen to Fox News articles!
You win some, you lose some.
That old adage rings true in both sports and life, but it was especially applicable to one specific sequence in Monday's Sharks-Jets game in San Jose.
During the second period, Sharks forward Joel Ward was absolutely rocked by a massive hit from Winnipeg defenseman Marc Stuart. Not great for Ward and San Jose right? Well, you lose some.
But after Ward was separated from the puck by the crushing collision, one of his teammates collected it and fed a streaking Timo Meier, who scored a beautiful breakaway goal just seconds later. That's an assist for Ward. You win some!
It was a pretty incredible sequence and luckily Ward wasn't too much worse for the wear. His two-point day at the office helped the Sharks come away with a 5-2 win, so he won a few more than he lost on Monday.