Coyotes win streak ends in Columbus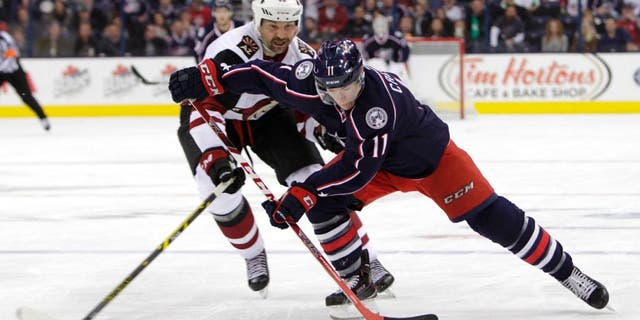 COLUMBUS, Ohio -- The Columbus players, staff and fans can collectively exhale. The Blue Jackets have won a game at home.
William Karlsson scored his first two goals of the season and Columbus beat the Arizona Coyotes 5-2 in a chippy game Saturday night, the Blue Jackets' first home win this season.
"It's a monkey off the back," said Karlsson, who came into the game with three goals in 37 career games. "Now we know we can win."
In a season that started surprisingly slow for the Blue Jackets but bit by bit under new coach John Tortorella is slowly getting better, the zero at Nationwide Arena was one big burden that needed to go away.
"We wanted this one so badly," Karlsson said. "We just didn't care what anybody said and stuck to our game plan."
Columbus entered with a six-game home losing streak -- tied for worst in franchise history -- and as the last NHL club this season without a home victory.
Boone Jenner had a goal and two assists, Ryan Johansen had a goal and an assist and Brandon Saad scored for the Blue Jackets. Jack Johnson had two assists and Sergei Bobrovsky made 27 saves as Columbus won for the second time in as many nights after beating the Penguins 2-1 on Friday night.
"Very happy that we were finally able to get a win," said Johansen, who scored his first goal in 14 games. "It was really cool to hear them (the fans) chanting C-B-J. To me that shows they're not going anywhere. They're going to be waiting to see if we can get the job done this year."
Anthony Duclair had a goal and an assist and Oliver-Ekman Larsson scored for Arizona, which had its three-game winning streak ended. The Coyotes were eyeing first place in the Pacific Division after finishing in the basement last season. Mike Smith had 16 saves.
Having squandered a two-goal lead, Jenner made it 3-2, redirecting Johansen's shot for his team-leading ninth goal at 16:14 on the power play.
What lead to the goal was the turning point in the game.
After being down two quick goals early, Arizona worked itself back into the game and put the crowd into a lull at the same time. They pulled even at 2 when Larsson, a defenseman, followed up a tough blocker stop by Bobrovksy at 5:49 of the second period.
Then Columbus' fourth line crashed the crease hard looking to create a spark.
"We were flat," Tortorella said. "We were holding on. That really helped us feel it on the bench and gave us a lift."
Jarred Boll's late poke of the puck under Smith's glove ignited a skirmish that energized the Blue Jackets and their fans. Max Domi immediately came to his goalie's aid but ended up with the extra penalty and Jenner capitalized for Columbus.
Arizona coach Dave Tippett was miffed as to how his club ended up down a man.
"I didn't like the call there," he said. "I didn't like that we ended up short-handed but that's the way that goes sometimes. You've got to go out there and get a kill. That's what you've got to do."
From that moment, Columbus revved it up.
Karlsson gave Columbus another two-goal lead midway through the third. Bursting inside the Arizona zone, Cam Atkinson took a low, hard shot. Karlsson collected the rebound and calmly put the puck past Smith. Five minutes after that, Saad jetted down the left side and ripped a shot from the dot for his seventh to make it 5-2.
"We had our character guys step up and make some big plays," Johansen said. "They got some energy going for our team. You need everyone chipping in to win."
The Blue Jackets came out with something to prove, scoring twice on their first three shots, including the first of the game to make it 2-0 early.
Karlsson finished a 3-on-2 pass from Scott Hartnell 1:39 in on a quick Columbus breakout. Four minutes later, on the power play, Johansen scored from the left circle for his second.
Duclair put the Coyotes on the board at 12:09 with his seventh, one-timing a 2-on-1 pass from Martin Hanzal.
NOTES: Arizona RW Shane Doan moved into a tie for 30th place for all-time NHL games played with 1,411. He was given a game misconduct during a dust up late in the second period. ... Blue Jackets C Brandon Dubinsky was put on injured reserve Saturday with an elbow injury. He's expected to miss a few weeks. ... Coyotes LW Mikkel Boedker played his 400th NHL game. ... Columbus is 5-6-0 on the road. ... Arizona next plays at the New York Islanders, Montreal and Winnipeg to wrap a four-game trip. ... Bobrovksy picked up an assist on the Blue Jackets' fifth goal.