Coyotes open minded with 2 picks in first round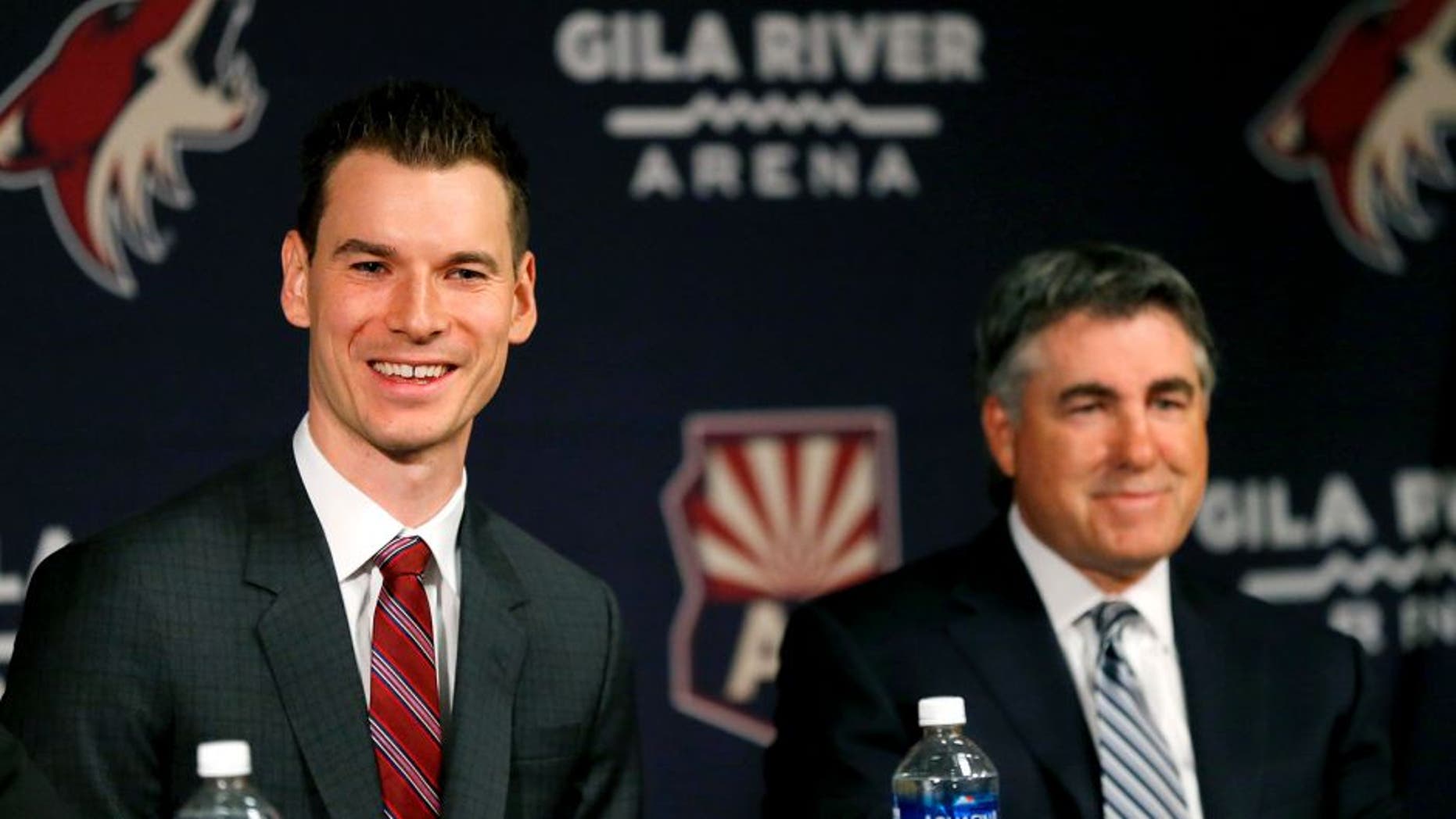 The Arizona Coyotes made a big splash in the NHL Wednesday be signing veteran defenseman Alex Goligoski, most recently with the Dallas Stars, to a five-year contract.
The signing addressed a critical need on the defensive side of the ice. Leading up to the 2016 draft, which will be Friday and Saturday in Buffalo, Coyotes General Manager John Chayka acknowledged that the team had a greater need for upper-level defense prospects.
"I wouldn't say that it's certainly something that we have to do, but I think it would be a preference," Chayka said in an interview with Dave Vest of ArizonaCoyotes.com. "It's difficult enough to predict who's going to be a good player in the future and try and predict future performance, so once you start then convoluting that process by picking by position, I think it becomes even more difficult."
While Goligoski significantly bolsters the defense for the here and now, the organization's prospect pipeline is lacking elite defensemen. Its top two prospects -- Dylan Strome and Christian Dvorak -- are centers, and the next tier is also dominated by forwards.
But the Goligoski signing does create more flexibility and increases the options for the Coyotes with their two first-round draft picks -- Nos. 7 and 20. Chayka said the team has a plan, but nothing is for certain until Friday night.
"If we stay at 7 and 20 we are going to get great players, so I'm happy to stay firm, and if there's something there that makes sense, then we'll do that too, but these decisions don't happen until the draft table," Chakya said.
If the Coyotes do opt to address defense at No. 7, there are three players who stand out as strong possibilities. The consensus among draft experts is that Jakob Chychrun, Olli Juolevi of Finland and Mikhail Sergachev of Russia are the top defensemen available, and it seems unlikely that all three would be taken before the seventh pick. Mike Morreale and Adam Kimelman of NHL.com both predicted Juolevi going to the Coyotes at No. 7.
The Coyotes acquired the San Jose Sharks' fourth-round draft choice earlier this week (120th overall) and the Sharks' 2017 third-round draft choice (previously Detroit's pick) in exchange for forward Maxim Letunov and a 2017 sixth-round draft choice.
The trade restored an eighth pick for the Coyotes, who dealt away a fifth-round pick to Dallas for the negotiating rights to Goligoski.
The following is a full list of the Coyotes' draft choices in the draft:
1st Round: 7th and 20th overall
2nd Round: 37th and 53rd overall
3rd Round: 68th overall
4th Round: 120th overall
6th Round: 158th overall
7th Round: 188th overall
Coyotes fans are invited to attend a first-round viewing party at Gila River Arena from 3 to 7 p.m. on Friday. Fans will be able to watch complete coverage of the first round, which starts at 4 p.m., on the arena video board.
Carnival rides, including a zip line and rock will, will be available for children. Concession stands will be open on the east side of the arena, and team representatives will be on hand to share information about season-ticket packages.