Cowboys have great respect for Giants' Beckham, Jr.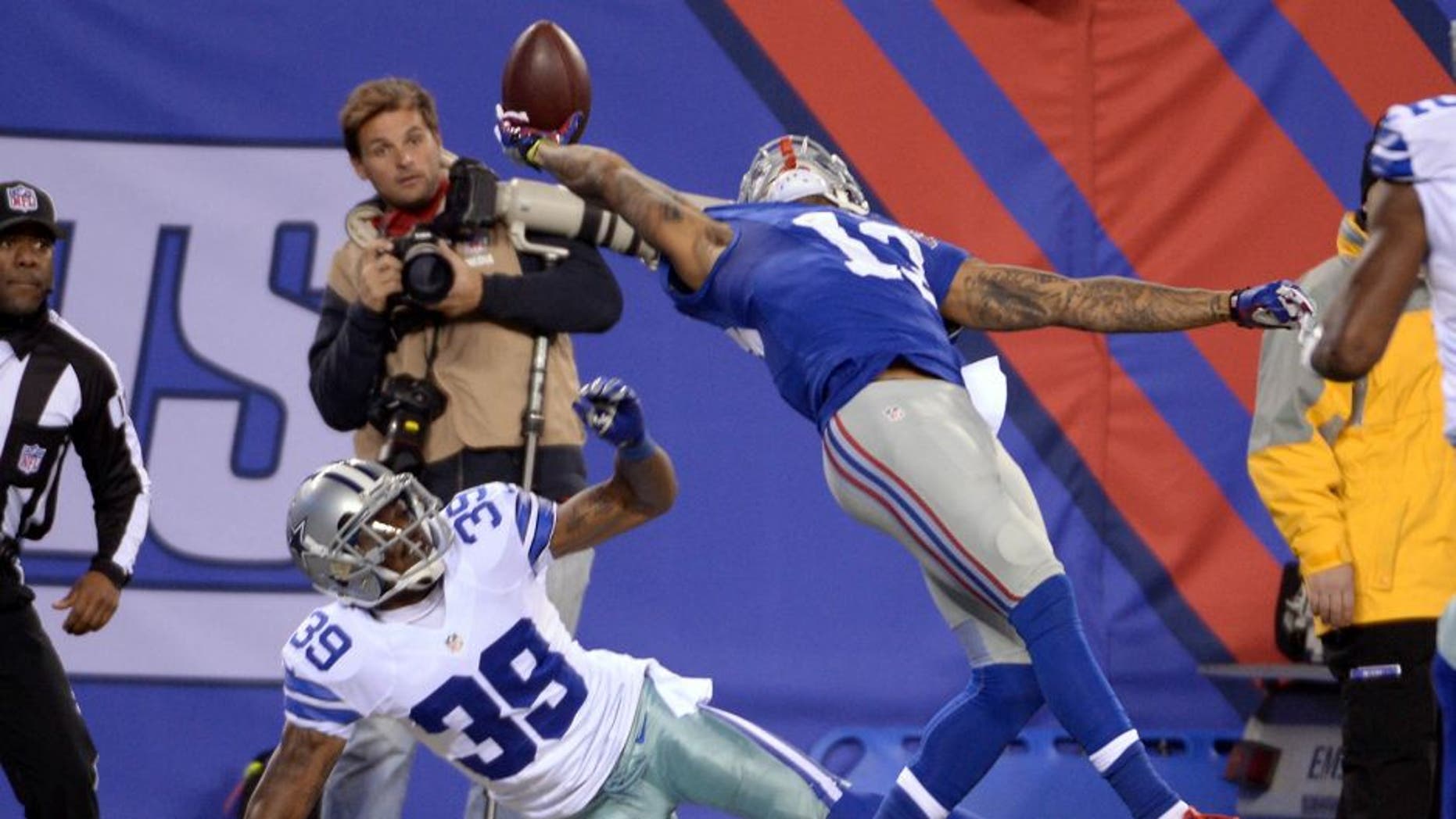 The Cowboys had nothing but praise for Giants second-year receiver Odell Beckham, Jr. on Wednesday. Head coach Jason Garrett referred to the 2014 first-rounder as "a damn good football player" in his daily presser.
"He's a really good route runner," Garrett said. "He obviously can make a lot of plays both down the field and make plays over his head like we've all seen. He's dynamic with the ball in his hands running with it after he makes the catch and he's just one of those guys who seems to be really productive, including the quarterback who likes to throw it to him and he's come through a lot over the course of his short career. To have the production he had over the course of 12 games last year was pretty impressive."
The Cowboys are all too familiar with Beckham's impressive skills. Last November against Dallas, he made a one-handed catch for a touchdown that became a highlight spectacular. And this was after Beckham's debut against the Cowboys in October where he caught four passes for 34 yards and two touchdowns. Beckham finished the year with 91 catches, 1,305 yards, and 12 touchdowns.
Some liken Beckham's playmaking ability to that of Cowboys receiver Dez Bryant, but third-year Dallas safety J.J. Wilcox still sees the two NFC East pass-catchers on different levels.
"You got to understand Dez has been doing this for five to six years," Wilcox said. "This guy just came in one year, but he's a great player at what he does at his position. So, I don't want to compare the two, because Dez has been doing this for years.
"It's different levels between a tight end like Jimmy Graham and a guy like Jason Witten. Jason Witten has a little bit more on him because he's been doing it longer. So, it's the same thing with those two. They're both great at their position and both of them make great plays."
For Wilcox, Beckham is part of a good receiving corps that includes Victor Cruz and Rueben Randle, who are led by a great signal caller in Eli Manning.
"They got some good wide receiving corps. They're going to be hard to stop. When Eli is rolling, he's rolling. They got two Super Bowls. So, he's a great player too. So, you can't forget about him. It's going to be a great test for us first game, and I can't wait to go out there."
Beckham is currently on a three-game streak of having at least 100 yards against NFC East opponents. The start of that run was his 10-catch, 146-yard, two-touchdown performance against Dallas in their last meeting.
MORE FROM FOX SPORTS SOUTHWEST:
- PHOTOS: Cowboys Cheerleaders Auditions
- Ranking NFL 2015 Starting Quarterbacks Youngest to Oldest
- Ranking NFL quarterback salaries
- Oldest player on every NBA team
- College football's highest paid coaches in 2014