Cowboys eye playoffs heading into final stretch, Bears try to boost their fading hopes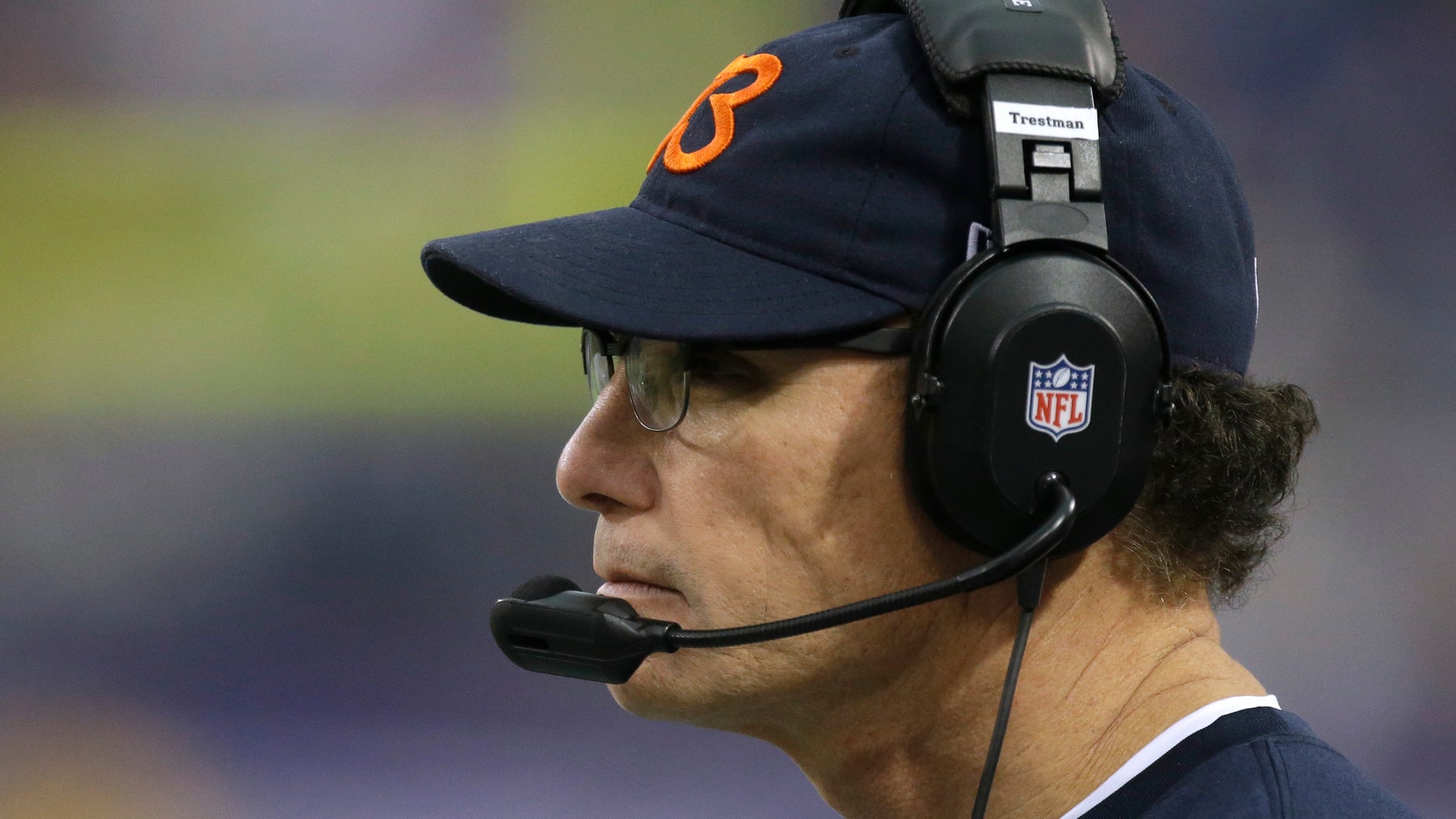 CHICAGO – Jason Garrett wasn't interested in a history lesson.
The way he sees it, the shortfalls in recent seasons have no bearing on the playoff push the Dallas Cowboys are trying to sustain heading into the final stretch.
They head into Monday's game against the fading Chicago Bears with back-to-back wins and a share of the NFC East lead.
"A lot of people step back and say, 'This team won eight in a row and won the Super Bowl. This team lost their last three,'" said the Cowboys coach. "It has nothing to do with us. What has to do with us is today and our preparation for Chicago. We want to play one good ballgame. That's really what we're focused on. We'll let everyone else figure out what the history of the world is.
"We've got to focus on us right now," he continued. "This football team has very little to do with the 2012, '11, '10, 1966 team — it has nothing to do with it. So we need to focus on us and what we need to do to get ourselves ready to play one ballgame."
For the third time in three full seasons under Garrett, the Cowboys (7-5) go into December with a chance to make the playoffs. Now, they'd like to clinch a spot.
They won three straight to go to 8-6 last season, only to lose to New Orleans and Washington. The Redskins game was the second straight playoffs-or-bust finale, so if Garrett wasn't in a reflective mood, it's not hard to see why.
The Bears (6-6) would just as soon not look back, either.
They've dropped six of nine after a demoralizing 23-20 overtime loss at Minnesota that fueled questions about coach Marc Trestman's decisions and reduced their playoff hopes to a long shot.
Trestman found himself facing questions for having Robbie Gould attempt a 47-yard field goal on a second down in overtime rather than try to shorten the distance as the Bears were moving the ball well enough.
Gould, operating on little sleep after the birth of his son, missed wide right, and Minnesota's Blair Walsh answered with a 34-yarder.
That sent the Bears to their sixth loss in nine games, a serious blow to their playoff hopes.
They trail Detroit by a game in the NFC North, with the Lions holding the head-to-head sweep, and their shot at the wild card is just about out of range.
The Bears would have been facing an uphill climb even if Jay Cutler and Lance Briggs returned from their injuries, and Trestman said they will not play this week.
"December is when you put yourself in position to try and make a playoff push, and unfortunately we're not in control of our own destiny now," long snapper Patrick Mannelly said.
Here are five things to look for in this game:
WHO'LL STOP THE RUN: How badly have the Bears struggled against the run? They rank 32nd in that category, but that only tells part of the story. They've allowed 199 yards rushing or more in four of the past six games and have given up 1,843 on the season, eclipsing last season's total (1,627). The 5.0 yards per carry they're giving up ranks as the third-highest average in club history.
RESTED COWBOYS: Before returning to practice on Thursday, the Cowboys had 10 out of 21 days off because of their bye and a Thanksgiving game.
"It feels like a new season all over again," Jason Hatcher, the team leader with a career-high nine sacks." We just got to approach it that way and keep doing what we doing."
STINGIER ROMO: The Bears intercepted Tony Romo five times in last year's win at Dallas. He hasn't been so generous this year.
Romo has just seven interceptions and has thrown more than one in a game only once this season.
"I think Tony has matured in every way since I've been around him," Garrett said. "I think his understanding of the game and what we're doing on offense and what the defense is trying to do is better and better. I think his understanding of football has improved."
HELLO AGAIN: New Bears defensive tackle Jeremiah Ratliff had little to say about facing his former team for the first time. A four-time Pro Bowl pick, Ratliff was released by Dallas in mid-October and signed by Chicago early last month.
"It's just football," he said. "I don't get caught up in all that silly rivalry stuff or some payback."
Ratliff missed the last six games of 2012 with a groin injury that required surgery, and never practiced for Dallas this season. He was in on 23 defensive snaps against the Vikings and hopes to play a bigger role this week.
DITKA'S MOMENT: Mike Ditka is finally getting his No. 89 retired. The Bears will honor the Hall of Fame tight end and championship coach at halftime, paying tribute to the only person in the NFL's modern era to win a title with the same team as a player (1963) and coach (1985).
___
AP NFL website: www.pro32.ap.org