Counting down Jeff Gordon's five best races; No. 5: Martinsville Nov. 2015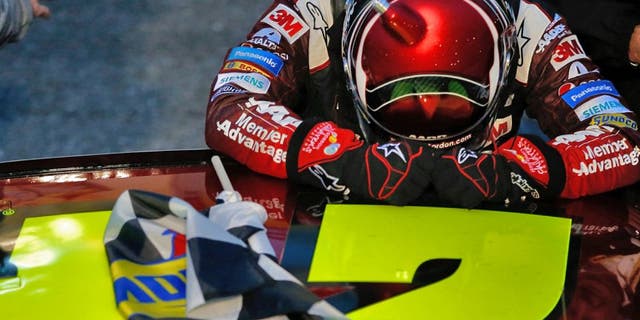 Editor's note: As the final week of Jeff Gordon's NASCAR Sprint Cup career kicks off, FOXSports.com will be counting down the four-time champion's top five Sprint Cup wins.
No. 5:" 2015 Goody's Headache Relief Shot 500 at Martinsville Speedway
Jeff Gordon may have 93 NASCAR Sprint Cup Series victories throughout his 23-year career, but none may have been as rewarding as the most recent at Martinsville Speedway.
Going through much of his final season fielding questions about when his next win would come, Gordon's first victory of the 2015 season came at one of his most successful tracks.
Thirty-three races into the season, Gordon was able to break into Victory Lane at the most ideal time, punching his ticket to the Championship 4 at Homestead-Miami Speedway.
Gordon did not have the best car of the day, but was able to capitalize on the issues of his fellow Chase competitors, execute a late-race restart to take the lead and score the much-needed victory, his ninth at the Virginia short track.
Climbing from the car on the frontstretch, Gordon showed an immense amount of emotion as the crowd went wild and his Hendrick Motorsports crew ran out to lift him in the air.
Standing in the makeshift Victory Lane, Gordon beamed with excitement, jumping up and down yelling, "We're going to Homestead!"
"Oh my gosh I didn't think they could get any better, but to win here at Martinsville in front of this crowd that stuck around. I tell you there nothing better than crossing the finish line and have that kind of reaction from the crowd," Gordon said as the crowd continued to cheer for the four-time champion. "That reaction from my team and to have my family come up this is unbelievable. I feel like I'm dreaming right now. I'm afraid I'm going to wake up and this is not going to be true."
After fighting through the season facing doubts and questions, Gordon called the dramatic and electrifying victory on of the best moments of his entire career.
"This is one of the finest moments I think I've ever had in my career, I'll be honest," said Gordon. "It's just because what this year means, that this is my final year, my final race at Martinsville, punching our ticket to Homestead, having my family here, the hard work this team has put together, that reaction from the fans. This is one of my finest moments I've ever had."
Honorable mentions:
Counting down the top five of Gordon's 93 career Sprint Cup Series victories is no simple task. From his inaugural victory in the 1994 Coca-Cola 600 at Charlotte Motor Speedway to his most recent at Martinsville, there are plenty of thrilling and memorable moments.
So, here are the five honorable mentions that just barely missed the cut.
1994 Coca-Cola 600 at Charlotte Motor Speedway: In just his second season in the NASCAR Sprint Cup Series, Gordon was having a rough start to the 1994 season heading into the 600-mile race at Charlotte. However, Gordon qualified on the pole and swapped the lead twice with veteran Ricky Rudd over the final 22 laps. Gordon got by Rudd for the final nine laps of the race, earning his first career Sprint Cup victory.
Pulling into Victory Lane, Gordon was highly emotional with tears in his eyes. "This is the greatest day of my life," he said. "I don't know what to say. It's just a wonderful feeling."
2007 Subway Fresh Fit 500 at Phoenix International Raceway: Gordon earned his first career Phoenix victory, did so after starting from the pole, edged Tony Stewart in the closing laps and tied Dale Earnhardt on the all-time Sprint Cup wins list with his 76th career victory. Gordon celebrated the accomplishment by driving around the track with a large black-and-white No. 3 flag.
2002 Sharpie 500 at Bristol Motor Speedway: Again starting from the pole, Gordon had the most dominant car of the night, leading 235 o the 500 laps. However, Gordon had to use the bump-and-run move on rival Rusty Wallace to retake the lead with just three laps to go.
2007 Dodge Avenger 500 at Darlington Raceway: Gordon earned his final win at Darlington in dramatic fashion, leading the final 22 laps of the race, much of that with the engine overheating and spewing water out of the overflow. While many expected the engine to expire before the checkered flag flew, Gordon somehow made it last to the finish, besting Denny Hamlin, who led 179 of the 367 laps.
2011 AdvoCare 500 at Atlanta Motor Speedway: One of Gordon's toughest competitors over the years was teammate Jimmie Johnson, and that was certainly true in Atlanta in 2011. The two Hendrick Motorsports driver had a heated battle for the win over the final 10 laps, with Gordon holding his protege off to score his final AMS victory.