Could 'Sharknado 3' propel Mariners, other aquatically-named teams to hot streaks?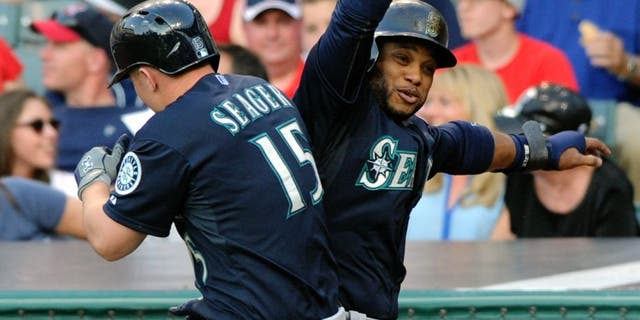 This week could be important for the Seattle Mariners - extremely important, in fact.
After Tuesday night's big pinch-hit grand slam off the bat of Franklin Gutierrez propelled them to a thrilling 11-9 win over the Detroit Tigers, the M's could very well be on the cusp of a hot streak.
Why is that, you might ask? Well, Sharknado 3: Oh Hell No! will premiere on SyFy Wednesday night.
Yes, there's a relevance here - bear with us. You see, Sharknado 3: Oh Hell No! will the third Sharknado film to premiere on SyFy over the past three years, as the network has built somewhat of an empire upon these campy, over-the-top horror/comedy films starring the likes of Ian Ziering of Beverly Hills, 90210, Tara Reid, Mark McGrath of the band Sagar Ray and even Mark Cuban (who plays the President of the United States in the new film).
As Kenny Ducey of Hashtag Important found out - yes, he crunched the numbers in impressive fashion - the Mariners, somehow, have benefited from the Sharknado films themselves. Amazingly, the M's have gone 19-4 in the two weeks after the premieres of the previous two films in 2013 and 2014. For whatever reason (or perhaps just coincidence if you don't care for fun statistics), they just get going once a new movie premieres on SyFy.
Ducey's findings also showed that other aquatically-named MLB teams, including the Tampa Bay Rays, Florida Marlins and Pittsburgh Pirates, have a combined .622 winning percentage in the two weeks after the films were released.
In case you STILL aren't convinced of the movies' magical motivational power, the rest of MLB has gone 283-305, good for a cumulative winning percentage of .481.
With the Mariners entering play Wednesday at 43-51, 10.5 games back of first in the AL West and 7.5 back of a Wild Card spot, a sustained hot streak (sparked by Sharknado or just due to sheer calendar coincidence) would go a long way toward re-igniting their playoff hopes.
Here's the trailer for Sharknado 3, if you wantd to see what all the fuss is about: